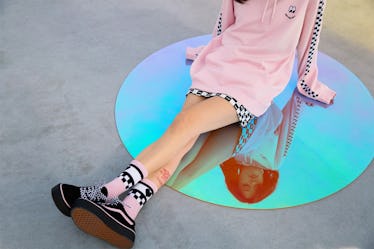 2000s-Era Avril Lavigne Would Flip Over The New Lazy Oaf x Vans Collection
When two cult favorite brands get together to collaborate on a range of pieces, it's a pretty big deal. And in my mind, the new Lazy Oaf x Vans collection is the biggest deal, as it's literally my dream collaboration. Trust me, it doesn't disappoint.
Unless you've been living under a rock for the past 40-plus years, then you're already aware of what Vans is about as a brand and why they're so cool. As someone who is obsessed with their Old Skool sneaker style (read: wears their Old Skool sneaker style every day), I think they make the raddest shoes on earth, hard stop. Lazy Oaf, too, is a curator of cool, though the London-based apparel brand has only been around since 2001, so they're much newer. Known for their playful designs that perfectly blend skatewear silhouettes with über cute color palettes and cartoon motifs, they prove that cheeky clothing can be fashion-forward.
Thanks to the fact that their aesthetics gel brilliantly, it was only a matter of time before these two brands got together. As Gemma Shiel, the founder of Lazy Oaf, told Hypebae of the collaboration, "Vans is an iconic brand and I am a personal fan of several of their shoes. The classic shoes also offer an ideal canvas for illustration and graphics. I like what the brand stands for and loved playing around with and interpreting the 'Off The Wall' slogan."
Indeed, the collection, which can now be shopped on Van's website, offers some awesomely reimagined versions of Vans' classic kicks, as well as an assortment of accessories and apparel. My favorite offering is a new iteration of Old Skool kicks (shocker), which feature a stacked platform sole engraved with hearts, a bubblegum pink sidestripe, checkered laces, and "Bad For You" emblazoned across the heel. Avril Lavigne circa-2003, eat your heart out.
The collection also includes a cartoon-ified version of Vans' classic checkered Slip-On style. Sets of tiny eyes (a Lazy Oaf Signature) peep out from within the black boxes and a thin strip of pink encircles the shoe above the sole.
Vans' Style 29 sneaker also got an upgrade and features a pink canvas shoe with a black rubber sole and toe cap, as well as laces that say, "SORRY I'M LATE." We can all relate.
The final footwear offering, which is definitely the sweetest of the bunch, features an adorable flower motif and contrasting black sole.
"I wanted the range to feature iconic Lazy Oaf graphics and imagery as well as our signature colour palette of black, white and pink. I didn't necessarily want the range to be trend-led, but instead for it to be synonymous with our brand values, so it was important to inject a bit of weird, a little bit of rebellion and a good chunk of sass," explains Shiel. "We love adding character to our designs, so wanted to feed this through to the accessories and hoodies, all giving a little sideways glance to life."
Speaking of, the non-sneaker offerings also rule. There's a light pink hoodie with white and black checked stripes running up either arm, and a set of eyeballs over Vans' "Off The Wall" slogan on the back. If you prefer that in long-sleeved shirt style, you're in luck. There's also a range of socks, a mini skirt, an adorable baseball cap, and even a dress — the collection basically includes half of a wardrobe.
With the most expensive item coming in at $90 (most items are well under), the collection is as affordable as it is cute. If you've ever wanted to bring back your mid-aughts punk phase, now would be the perfect time.