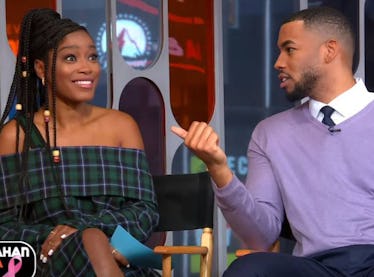 Mike Johnson Asked Out Keke Palmer & Her Reaction Sparked The Best Meme
ABC
It wasn't too long ago that Mike Johnson was making headlines for his crush on Demi Lovato. Those days seem long gone, though, as The Bachelorette alum appears to have his eye on another star: actress and TV host Keke Palmer. And he didn't waste too much time before making a move. Johnson, in fact, dropped a not-so-subtle hint on Palmer's show on Oct. 14, with co-hosts Michael Strahan and Sara Haines right in front of him. Suffice it to say, Twitter made a day of it. These Keke Palmer and Mike Johnson memes and reactions are hilarious.
"Big Mike," as he's known on Bachelor Nation, was a guest on Strahan, Sara and Keke, a talk show reporting on top headlines from Times Square. Johnson said that he's dated in the public eye before —referencing his time flirting with Lovato — and that he'd prefer to be more private about his love life in the future.
Palmer, however, didn't let him off the hook that easy, asking, "So, what made you do a kiss and tell moment, was it like a slip of the tongue?" Johnson called his kiss and tell a "mistake," said that he apologized "to the people that I needed to apologize to," and reaffirmed his stance on openly speaking about his love life. Immediately after, however, the reality TV star turned to Palmer and asked, "But if I were to ask you if we could go on a date in the public..."
Everyone, including the actress, was surprised. She looked at her co-hosts for help, who didn't seem in a hurry to help her out. "What's the next question?" Palmer asked them a couple times before eventually responding to Johnson with, "I'm at work!"