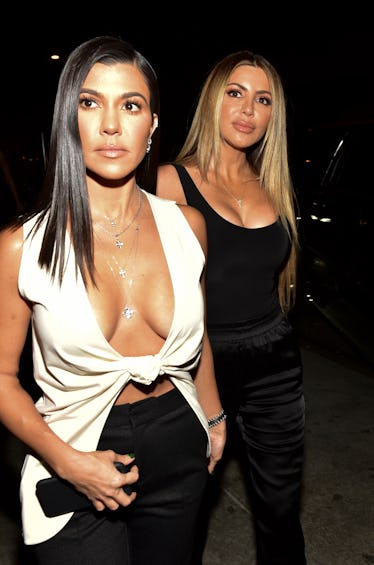 The Kardashians & Larsa Pippen's Social Media Exchanges Reveal A Lot Has Changed
Rodin Eckenroth/Getty Images Entertainment/Getty Images
Once upon a time, the Kardashian sisters and Larsa Pippen were stuck like glue. Larsa began making appearances on Kourtney and Kim Take Miami back in 2011, and they became staples on each other's Instagrams around 2016. Since then, despite some reported ~drama~ behind closed doors, the Kardashians and Larsa Pippen's social media exchanges have been full of nothing but love. That's why it was so shocking when signs of a crack in their usually-solid friendship appeared in July 2020. Eagle-eyed fans noticed the Kardashians and Larsa were no longer following each other on Instagram and Twitter, and the revelation set off alarm bells that the pals were beefing.
Larsa briefly spoke out about unfollow-gate in an Instagram Story on July 23, claiming everyone involved was just busy and there was no drama. But her story changed in a Nov. 9 interview on The Hollywood Raw podcast, in which Larsa decided to get real about why she unfollowed the Kar-Jenner crew, placing direct blame on Kanye West.
"He literally has brainwashed the whole family into thinking that, I don't even know what," Larsa said. When it comes to Kim, specifically, who Larsa was closest with, she explained: "I just kind of felt like, do what's best for your family, you know? I love you. You and I are best friends. We've been through everything together. I would never do anything to jeopardize our relationship. We're like sisters. We're family. But if you have to unfollow me to make your home a better place, then do it, you know?" (The Kardashians' team did not respond to Elite Daily's previous request for comment on Pippen's claims.)
Her somewhat cold (not to mention entirely evasive) tone was markedly different from the way she talked about her friends on social media in the past. Just take a look at all their gushiest posts about one another through the years, and how it all changed in 2020.
Larsa & Kourtney
July 2016: Kourt's Klosest Pal
From the start, it seemed like out of all of the Kardashians, Larsa was closest to Kourt. In one of their first-ever social media posts together, Kourtney honored Larsa on her 42nd birthday with a heartfelt post. "Happy birthday to my fly as hell boo!" she wrote on July 6. "I am so happy I got to celebrate with you today and for the past two weeks lol. I love you so much!"
Kim also posted for Larsa's birthday. In a since-deleted tweet, she wrote: "Happy Birthday to one of my best friends @larsapippen. You inspire me to do it all! Mom, wife, best friend & hottest Milf I know! I love you!!!!"
March 2017: They're That Close
Kourtney and Larsa had such a tight bond, she called Larsa her "wifey" in this cute selfie.
August 2017: They Don't Leave Each Other's Side
If Kourtney and Larsa spending two weeks together celebrating Larsa's birthday didn't give it away, these two barely parted from one another back in the day. Kourtney revealed she and Larsa had spent "a week" together in a makeup-free selfie.
October 2019: Larsa Was Kourtney's Biggest Hype Woman
Larsa called herself a "proud best friend" in the comment section of Kourtney's Instagram introducing her Yellow Diamond KKW Fragrance.
June 2020: Singing Their Praise
Larsa showed some subtle support for the Kardashian clan when she commented a simple red heart emoji under Kourtney's video of one of Kanye West's Sunday Services.
Just a month later, Larsa and the entire Kardashian clan had unfollowed each other.
Larsa & Kim
February 2017: Babysitter Larsa
A look back on Kim and Larsa's social media interactions reveals the pair were close. Many of their interactions revolved around their kids, like when Larsa spent some quality time looking after North.
July 2017: More Like Family
Larsa and the Kardashians' kids were just as close as their moms. Check out Larsa's daughter, Sophia Pippen, posing with North and Penelope.
October 2018: A B-Day Honor
Larsa raved about Kim in a sweet birthday post on Oct. 21. "Hbd boo you're an amazing friend, entrepreneur, and mom I'm so proud of you!!!!" she wrote. "Love u till the end."
June 2019: True Pals Celebrate Together
Kourt and Kim were on hand to celebrate Larsa's 45th birthday. "Had a blast at my birthday party last night," Larsa wrote alongside a group photo from her special day.
August 2019: A Rare Comment From Kim
Kim, who barely commented on Larsa's posts even when they were on the best of terms, showed some love for Larsa on Aug. 24, writing "Wow" with three fire emojis under Larsa's sultry pic.
October 2019: Besties for Life
Larsa paid tribute to Kim on the KKW Beauty founder's birthday. "Happy bday boo bear!!" Larsa wrote. "I love you so much, we've been thru everything together. You're my Bestie for life❤️. The best is yet to come."
Sadly, if their followers lists are anything to go by, the women may not be "besties for life" after all.
Larsa & Khloé
March 2018: Celebrating Mama KoKo
Larsa and Khloé's friendship didn't seem nearly as tight-knit as Larsa's friendship with Kim and Kourtney, but that doesn't mean they lacked a relationship altogether. Larsa helped celebrate Khloé's baby shower, wearing pink in honor of her pal's baby girl.
February 2020: Supportive Pals
Khloé gushed over Larsa's Feb. 8 mirror selfie, writing "Oh damn" in the comments section. Larsa repaid her kindness a couple weeks later when she wrote "my fav" underneath a Feb. 23 photo of Khloe promoting her Pink Diamond perfume.
February 2019: Larsa Comes to Khloé's Defense
Shortly after Khloé broke up with Tristan Thompson for kissing Jordyn Woods at a party, Larsa spoke out.
In the comments section of a Hollywood Unlocked Instagram post about Woods' upcoming Red Table Talk tell-all interview, Larsa called Woods out for supposedly lying about what really went down with Thompson.
"Can't wait to see which version of her story she tells," Larsa wrote. "Hope it's the same she told @khloekardashian when she checked her."
Larsa & The Kardashian's Feud
July 23, 2020: Nothing To See Here
After a long period of silence between the friends on social media, fans were convinced there was bad blood when Larsa unfollowed the Kardashians. But Pippen insisted fans were overreacting. "I Woke up this morning blessed and see that everybody is focused on who I am following and who I am not following on social media," she wrote on her Story on July 23. "I am focused on my children, my new fitness brand Larsapippenfitness, and my relationships in real life. Praying that everybody finds peace in their own lives and focus on what brings THEM happiness."
Nov. 12, 2020: Larsa's Cryptic Message
Days after Larsa finally spilled the real tea about her drama with the Kardashians on The Hollywood Raw podcast, she shared a message to her IG Stories that fans suspected was directed at the Kardashians. "Pray, and then let it go," she shared. "Don't try and manipulate or force the outcome. Just trust God to open the right doors at the right time. Amen."
Nov. 13, 2020: Larsa's Not Backing Down
In a not-so-subtle IG Story, Larsa seemingly hit back at the criticism she received for speaking out about the demise of her friendship with the Kardashians. "Telling the truth isn't a crime," she wrote, seemingly doubling down on her claims from her bombshell interview.
In Elite Daily's It's Complicated series, we dissect the biggest celebrity drama to find out what happened in front of the camera, behind the scenes, and everywhere in between. Read more here.
This article was originally published on