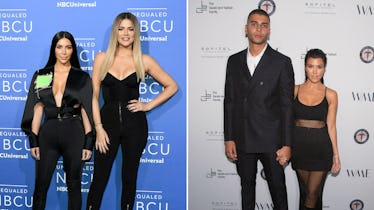 Here's Why The Kardashian Sisters Reportedly Don't Trust Younes Bendjima These Days
Dia Dipasupil/Gabriel Olsen/Getty Images Entertainment/Getty Images
Settle in and get cozy, friends, because I'm here to deliver you your scalding hot tea for the day. In case you weren't aware, Keeping Up With The Kardashians star Kourtney Kardashian and her boyfriend since 2016, Younes Bendjima, broke things off back in August, and her siblings haven't exactly seemed displeased by the news. But Kourtney and her ex have been caught by the paparazzi reportedly driving together, which is a pretty big no-no if you've dumped someone (or have been the one who was dumped). And now, the Kardashian sisters' reaction to Kourtney meeting Younes Bendjima suggests that there may have been some foul play involved on Bendjima's end. Elite Daily reached out to Kardashian and Bendjima's teams for comment, but have not heard back by the time of publication.
OK, so there's a lot going on in this story, but I'm going to try and keep it as simple as possible. Let's dive in.
According to TMZ, the photos of Kourtney Kardashian and Younes Bendjima meeting up in a parking lot were only snapped by the paparazzi because reportedly Bendjima tipped them off. Apparently, Kourtney's sisters Kim and Khloé reportedly have "solid reasons" to believe that the meeting was totally staged by Bendjima to "squeeze out the last drops of his 15 minutes" of fame.
TMZ broke the story that Kourtney was spotted with Bedjima in the passenger seat of her Range Rover outside of a sushi restaurant in Malibu on Monday, Sept. 3, which fans naturally thought meant that the couple might be getting back together. But according to sources close to the ex-couple, it was the opposite, and their meet-up was actually a way to gain some closure.
But still, it makes you wonder how the paparazzi found out about the little rendezvous, and sisters Kim and Khloé are reportedly convinced that it was Bendjima who tipped off the photogs. According to sources from TMZ, "the Kardashians believe Younes frequently tipped off paps while he dated Kourt... because they would show up at random places where the 2 were hanging out, and there's no way they would have known in advance." Elite Daily reached out to Kardashian's team for comment, but have not heard back by the time of publication.
Oh, snap.
TMZ also claims that Bendjima "knew his relationship with Kourtney was over" and that "this was his Hail Mary for the last bit of publicity."
But look, none of this is confirmed and, at this point, it's all speculation. Plus, sources told TMZ that "Kourtney is happily single and is not back with her 25-year-old ex," and that her siblings are hot complaining about it.
It's not like they haven't been more than happy to roast Bendjima in the past, taking to social media to throw shade at Kourtney's ex after photos surfaced of him looking very close to a woman who wasn't Kourtney in Mexico almost immediately after the news of their split became public.
Popular Instagram account @TheShadeRoom caught Khloé's reaction to Bendjima's comments about the media portraying him as "the bad guy," writing, "Alexa play "heard it all before" by Sunshine Anderson":
The Kardashians do NOT mess around, you guys.
We may never find out why Kourtney Kardashian and Younes Bendjima met up that night (or how the paparazzi found out about it), but you never really know what's around the bend for this family, so stay tuned.