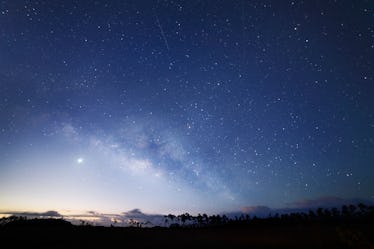 Here's What Your Love Life Will Be Like This Month, According To The Stars
Get ready for some major information, because this June 2018 horoscope for your love life has a lot in store for you. At the beginning of the month, Mercury's square with Neptune can lead to breakdowns in regards to communicating your needs. Restore clarity with your own needs and desires in order to clear up confusions that might arise between you and your lover.
On June 26, Mars will go retrograde. You might find yourself brimming with sexual tension. If you don't have an intimate partner at this time, a rigorous gym workout, a cold shower, and/or a new sex toy can assist with giving yourself the intimate care you need.
On June 28, the full moon will be in Capricorn. Dominated by Saturn retrograde, this lunar event will be an opportune time to break out of restricting and ultimately harmful relationship cycles. These themes will continue to be echoed for the next 9 months, with Chiron moving through Capricorn. Much healing is to be done in the areas of our chart that dictate how we spend emotional resources within relationships — and what resources we receive in return. A relationship is nothing without strong emotional investment. At the same time, trust has to be earned before that currency of love is shared with another. Be prepared to change the ways in which you have traditionally shown up for others, and let down the walls preventing others from showing up for you.