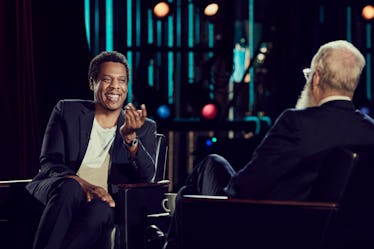 I've Got 99 Problems But Netflix's Trailer For Letterman's JAY-Z Episode Ain't One
Joe Pugliese/Netflix
Since January, David Letterman's Netflix show, My Next Guest Needs No Introduction, has been giving us amazing, in-depth interviews with the world's most prominent people, including President Barack Obama, Malala Yousafzai, and George Clooney. Letterman's show is a great way to get to know these public figures better, and the hour-long format gives him a chance to ask both the fun and the important questions. The show only airs one episode a month, and in April, Letterman will interview JAY-Z, so yeah, you could say I'm excited. On Monday, April 2, the streaming platform released two trailers for the JAY-Z episode of Letterman's Netflix show, and from the looks of things, it seems like the rapper is prepared to talk about way more than just music. Get ready, Bey-Z fans, because you might be getting some inside info about the world's most famous relationship.
In the first trailer, posted to YouTube, JAY-Z discusses what makes a great rapper. According to Beyoncé's husband, there are many ways to be a great rapper, but at the end of the day, it comes down to having a good voice and having a good sense of rhythm. "You can have a great voice, and you can just almost say anything," he tells Letterman. "I think Snoop Dogg has a great voice. Like he can say, 'One, two, three, and to the four,' and it's like, 'Oh my god.' It just sounds good, right?" JAY-Z then imitated Eminem, saying that he has "amazing cadence and syncopation," and his impression is so spot on that you'd think it was Eminem himself.
Watching JAY-Z take on Snoop Dogg and Eminem is great, but it's the second trailer — this one posted on Netflix's Twitter page — that has me really excited. According to this trailer, The Roc will be talking about everything from his family to Kanye, and Beyoncé to Trump. "Very few people are telling their real true life story," he tells Letterman at the beginning of the trailer. JAY-Z has always stayed truthful in his music (and that's why people love him so much), but he's a little more private as a person, so his appearance on My Next Guest Needs No Introduction is a great opportunity for fans to get to know him better.
From the trailer, it's clear that JAY-Z will be addressing some personal topics, like his mother coming out as gay. The rapper revealed that his mother, Gloria Carter, is a lesbian on "Smile," one of the tracks on his latest album, 4:44, but he hasn't talked much publicly about his mother's sexuality. JAY-Z will also be talking about the impact that President Trump has had on the country, saying in the trailer, "He's bringing out the ugly side in America that we wanted to believe was wrong." JAY-Z is not holding back on Letterman's couch, and I am so here for it.
Letterman is obviously known for his comedy, and he still manages to get in a few jokes amid the more serious conversation. "I'm told your wife is also in show business," he jokes, earning a huge laugh from both JAY-Z and the audience. Jokes aside, it seems like JAY-Z will definitely be talking at least a little about Beyoncé, and even if he tries to evade questions, I'm confident that Letterman will press him. Maybe viewers will get some new Becky with the good hair info?
Honestly, it's kind of amazing that JAY-Z managed to squeeze in his Letterman appearance considering that he and Beyoncé are more than a little busy right now. The couple begins their On The Run Part 2 tour on June 6, and rumors are swirling that they're releasing a new joint album in advance of the tour. But that being said, is there ever a time when these two aren't busy?
The JAY-Z episode of My Next Guest Needs No Introduction premieres Friday, April 7, on Netflix.