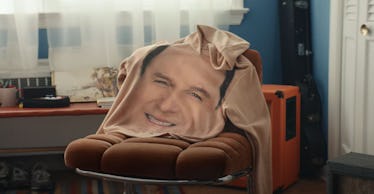 If You NEED A Jason Alexander Hoodie After Watching Tide's Super Bowl Ad, Here Are 5 To Buy
YouTube
Super Bowl commercials are arguably the most American of traditions. They take what is already the biggest U.S. sports event of the year and stuff it full of mini-entertainment moments, all in the service of selling products. For the ad industry, it is the de facto kickoff for year-long promotions to sell everything from cars to beer and snacks to consumers. But sometimes, the commercial introduces something that gets more attention than the subject of the actual ad. Case in point: The Jason Alexander hoodie in Tide's 2021 Super Bowl ad, which most viewers are far more curious about getting their hands on than everyday laundry detergent.
It's not the first time a made-up product has accidentally taken the internet by storm. The late, lamented website ThinkGeek was famous for dreaming up impossible products and advertising them on April Fool's Day, only for consumers to actually try to buy them. The most famous of these, the Star Wars-themed Tauntaun sleeping bag, actually went on to become a real product due to unending popular demand, as did a few others, like the Unicorn Meat.
When the new ad first dropped, it didn't seem like Tide would put out a Jason Alexander hoodie, but due to popular demand, the company announced a limited giveaway for select fans who donated on their website. For a chance to win the official hoodie, all you have to do is donate any amount of money through Tide's website to Feeding America and Matthew 25: Ministries. Of everyone who donates before the end of the day on Wednesday, Feb. 10, 100 people will be randomly selected to receive a Jason Alexander hoodie.
Unfortunately, Tide is only giving away 100 official Jason Alexander hoodies, meaning there's a good chance you might not get your hands on one. Don't worry, though — here are a few alternatives with similar vibes:
This article was originally published on