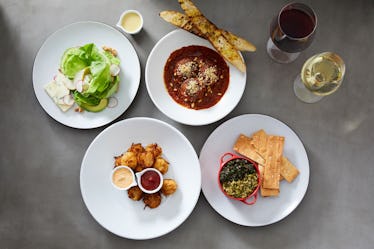 CBD-Infused Tater Tots & Eye Serum Are On The Menu At The James Hotel In NYC
The James Nomad Hotel
If you're currently mulling over your next vacation destination, you might be excited to hear that one New York City hotel is offering adventurous foodies a gourmet upgrade. The James Hotel in New York has a CBD-infused menu that was curated by renowned cannabis chef Andrea Drummer, and each item sounds more intriguing than the last. CBD-infused tater tots? Check. CBD-imbued eye serum? Check. Get ready to kiss your travel anxiety and late night munchies goodbye, because this new hotel menu is here to stay.
The James NoMad Hotel in New York City is the latest spot to help its guests chill out with the help of a full CBD menu offering everything from skin care to meatballs powered with CBD, also known as Cannabidiol, which is a cannabis extract that is legal in all 50 states, per Medical News Today.
While tasteless — and not mind-altering like delta-9 tetrahydrocannabinol (THC) — CBD has been shown to have calming and stress-relieving effects, which has made it a sought-after ingredient with chefs starting to experiment with cannabis, per Medical News Today. Drummer, a Le Cordon Bleu graduate who has cooked her cannabis-infused dishes for celebrities and worked alongside famed Chef Neal Frazer, was pegged by NoMad to create a full menu that would allow guests to relax in every sense of the word, according to The James NoMad Hotel.
"The James New York – NoMad serves as an urban sanctuary to all who stay with us – we offer calm in the non-stop hustle and bustle of New York City, and the medicinal properties of this culinary offering allow us to extend a special calming experience to our guests," James La Russo, Senior Manager of Social Media and Public Relations, explained per a statement in an email to Elite Daily.
With one of the leading Cannabis chefs under its belt, it's unsurprising that the hotel menu covers all its bases. Crispy tater tots accompanied by chipotle ketchup and Sriracha mayo are perfect to share, while spicy meatballs — featuring pine nuts, parmesan cheese, a red sauce and served with two toasted pieces of bread — could make a pretty tasty late dinner.
Have a sweet tooth? An ice cream sundae featuring caramel sauce will take your fancy. There's even a butter lettuce salad featuring pear vinaigrette, gorgonzola, walnuts, and pears, if you want to reap the benefits with a lighter dish.
All tasting menu items fall between 10 through 20 mg of CBD, and range between $14 through $32. There's also a handful of snack items, like chocolate bars, granola, nuts, or even an $8 CBD water, if you want a more no-frills approach to your CBD intake. Oh, and this foray CBD menus isn't a one-off instance. This adventurous CBD menu comes just months after the Los Angeles-based cannabis company Lord Jones first stocked The Standard Hotels with some seriously photogenic CBD gummies in April. The James Hotel's menu launched in June 2018, per Urban Daddy.
After you indulge your late night munchies on the East Coast at The James NoMad Hotel, you can then turn to the room-service amenities section to further harness the therapeutic qualities of CBD. According to Russo, Drummer is also responsible for curating the collection of soap bars, body scrubs, and eye serums. Considering that CBD is known for its pain-relieving and anti-inflammatory properties, one of the many beauty products (which range from $10 to $52) might be just what you need to sooth tired and puffy eyes or achy muscles. Want your furry friend to get in on the R&R? Bark Avenue Granpaw's Dog Hemp Treats are available for just $16, so there's no reason that you can't have a puppies n' chill night.
While a rep from The James NoMad Hotel confirmed to Elite Daily that there are no plans to expand the CBD offerings or bring them beyond the in-room menu, it's a permanent room service menu that might make it worth booking a trip to New York City or even swinging by for the chillest staycation. Forget the hotel mini bar, because your room service is about to be where the fun's at.