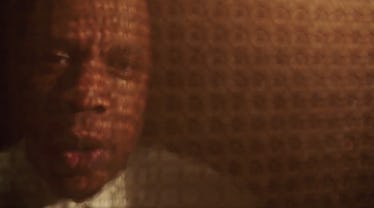 JAY-Z's "Family Feud" Music Video Opens With This Powerful Quote & We Have Chills
TIDAL
The anticipated music video for JAY-Z's powerful song "Family Feud" from his latest album 4:44 is finally here, and boy oh boy, is this sh*t intense. Even the teaser alone, which was released in a tweet by Roc Nation on Dec. 28, practically had my heart in my throat. But now that the full video has dropped, we have eight whole minutes of some seriously heart-wrenching Carter family drama to contend with. The James Baldwin quote in "Family Feud" kicks the music video off on a seriously chilling note, and the whole thing only gets more intense from there.
Look, when that 30-second teaser of the video first dropped on Twitter, I knew we were all in for some serious sh*t. We were shown only brief, flashing images of Jay and Beyoncé in a church. We saw JAY-Z looking distressed in a confessional booth, with Bey on the other side looking like her usual, beautiful goddess self. We saw Jay walking their daughter Blue Ivy down through the pews of the church. What does any of this mean?!
Of course, we can gather some insight about what it all means from the "Family Feud" lyrics, but what is perhaps even more telling is the quote that silently opens the entire music video.
The quote, which comes from American novelist James Baldwin, says,
The wretched of the earth do not decide to become extinct, they resolve, on the contrary, to multiply: life is their weapon against life, life is all that they have.
Jesus, guys. "Life is all that they have." If you're not running to your thermostat and jacking up the heat because of the ridiculous amount of chills running up and down your spine right now, then I'm sorry, I'm pretty sure you do not have a soul.
So, on its surface, it's more or less straightforward what this quote actually means. Wickedness usually breeds more wickedness in this world, and those who are wicked tend to manipulate others, and even life itself, to carry out said wickedness. But why does this quote appear at the very beginning of JAY-Z's "Family Feud" music video? What sort of tone is it meant to set, and what is the message we're supposed to internalize as we watch the rest of the video?
It might help to have a little context on who James Baldwin, the man behind those opening words, actually was. For a very quick lesson on his work, his literature explored racial relationships in Western society, particularly in the 20th Century.
With that in mind, it actually makes total sense that JAY-Z's "Family Feud" music video would open with this quote. The lyrics in the song don't just touch on the infidelity that went on in his relationship with Beyoncé, but also about his identity as a rich, black man in America:
Super Bowl goals. My wife in the crib feedin' the kids liquid gold. We in a whole different mode. Kid that used to pitch bricks can't be pigeonholed. I cooked up more chicken when the kitchen closed. Oh, we gon' reach a billi' first. I told my wife the spiritual sh*t really work! Alhamdulillah, I run through 'em all. Hovi's home, all these phonies come to a halt. All this old talk left me confused. You'd rather be old rich me or new you? And old n*****, y'all stop actin' brand new. Like 2Pac ain't have a nose ring too, huh.
Later on in the next verse, Jay raps,
If anybody gettin' handsome checks, it should be us. F*ck rap, crack cocaine. Nah, we did that, black-owned things. Hundred percent, black-owned champagne. And we merrily merrily eatin' off these streams. Y'all still drinkin' Perrier-Jouët, huh. But we ain't get through to you yet, uh. What's better than one billionaire? Two (two). 'Specially if they're from the same hue as you. Y'all stop me when I stop tellin' the truth.
I don't know about you guys, but I am so here for these lyrics. If you need me, I'll be listening to "Family Feud" on repeat until I'm dead.