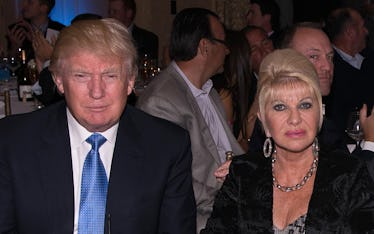 The Ivana-Melania Trump Feud Continues With Ivana's Newest Comments On The First Lady
Dave Kotinsky/Getty Images Entertainment/Getty Images
Another day, another set of comments from Ivana Trump about First Lady Melania Trump. This time, President Donald Trump's first wife — and mother of his three eldest children — was featured in a Fox News interview during which she said "there's absolutely no problem" between her and the first lady. Ivana Trump also said she'd reached out to Melania Trump at some point in the past to clear the air.
The 68-year-old mother of Ivanka, Eric, and Donald Trump Jr. told Fox & Friends' Ainsley Earhardt,
I sent Melania a text [saying] the last thing I would ever want to do is say something bad about you, because you are family. And I don't say anything bad or do anything bad to a family member.
The interview was broadcast on Tuesday morning, Oct. 10, but had been recorded last week. Since the recording, a separate interview of Ivana Trump drew a response from the East Wing of the White House, where the office of the first lady resides.
In that particular interview, with ABC's Good Morning America, Ivana Trump (seemingly in a joking manner) said that she was the first lady.
I have the direct number to White House, but I don't really want to call him there because Melania is there. I don't want to cause any kind of jealousy or something like that because I'm basically first Trump wife.
While laughing, she added,
I'm first lady, okay?
Stephanie Grisham, a spokeswoman for First Lady Melania Trump would later respond on Monday,
Mrs. Trump has made the White House a home for Barron and the President. She loves living in Washington, D.C. and is honored by her role as First Lady of the United States. She plans to use her title and role to help children, not sell books.There is clearly no substance to this statement from an ex, this is unfortunately only attention-seeking and self-serving noise.
While Ivana Trump's newly-aired comments about the first lady tempers the perception that there is a feud between the two women — with the president's first wife insisting that she has "no problem" with his third — the same cannot be said for Ivana's feelings towards his second wife, Marla Maples.
During the Fox News interview, when asked why she and Donald Trump got a divorce, Ivana Trump responded frankly,
We got divorced because Donald was unfaithful and, you know, the trust is [the most] important thing to me.
Then, when asked whether an affair with Maples occurred during the president's first marriage, Ivana Trump responded,
I'm not going to talk about a show girl. She asked for apology, and I said her apology is not accepted.
Still, Ivana Trump would go on to say that Maples "ruined" her marriage with Donald Trump.
Why Ivana Trump Has Been Talking
The assertion from First Lady Melania Trump's spokeswoman that Ivana Trump is seeking attention is not exactly wrong. The president's first wife has, in fact, been granting multiple interviews for just that: attention, particularly for her new book titled Raising Trump.
In one excerpt from the book, the author writes about the subject the very title implies, raising her children with Donald Trump:
I believe the credit for raising such great kids belongs to me. I was in charge of raising our children before our divorce, and I had sole custody of them after the split. I made the decisions about their education, activities, travel, child care, and allowances. When each one finished college, I said to my ex-husband, 'Here is the finished product. Now it's your turn.'
Ivana Trump's new book was released on Tuesday.