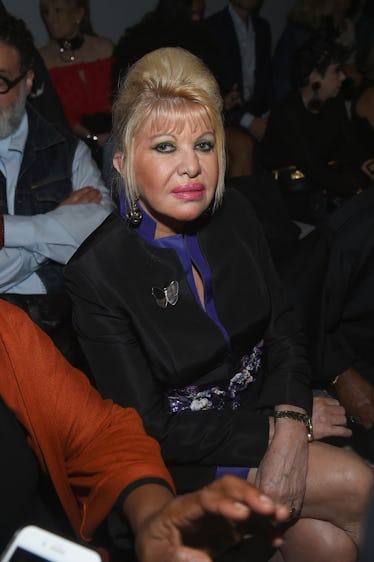 We Apparently Have Ivana Trump To Blame For Donald's Tweets
Ben Gabbe/Getty Images Entertainment/Getty Images
President Donald Trump's first wife Ivana Trump said she advises Donald on his tweets in an interview with CBS Sunday Morning that is set to air this weekend, on Oct. 8. Among other things, Trump talks about how she has the "perfect life." For all the times the public has blamed and criticized the president for his reckless usage of Twitter, we now have Ivana to blame for that.
When asked how often she speaks to President Trump, Ivana said "maybe once a week," and said that she advises him on when to use Twitter. Trump said,
He asks me, 'Should I tweet? Should I not tweet?' I said, 'I think you should tweet.'
She went on to say that the social media tool "is a new way, a new technology," that can get "your words across rightly, without telling The New York Times, which is going to twist every single word of yours."
When asked about the growing criticism towards the president's use of Twitter, Trump said, "Well, it's a tweeting president. This is his new way, how to put the message across. And he's right."
Trump, the mother of Donald Jr., Eric, and Ivanka, goes on to explain why she refused President Trump's offer to be the American ambassador to Czech Republic. Trump said,
Donald told me, 'If you want it, I give it to you.' But I like my freedom. I like to do what I want to do, go wherever I want to go. And I can afford my lifestyle. OK, why would I go and say bye-bye to Miami in the winter, bye-bye to Saint Tropez in the summer, and bye-bye to Spring and Fall in New York? I have a perfect life.
And she's right, who could argue with that?
In the upcoming interview, Trump is expected to talk about her life before and after she was married to Donald Trump, her opinions on Trump's second wife, Marla Maples, and his third, First Lady Melania Trump, as well as what the president was like as a father, raising their three children. These hot topics, among others, will be featured in her new book, Raising Trump, which is aimed at giving advice for parents in raising kids. The book is set to be released on Oct. 10.
While Ivana has been supporting and advising Trump in his Twitter endeavors, First Lady Melania Trump has apparently been less successful in her attempts to advise her husband. In an interview with CBS 60 Minutes, right after the election on Nov. 13 last year, the first lady was asked about her opinion on the president's history of harassing others on Twitter. Trump responded with, "Sometimes, he — it got him in trouble. But it helped a lot as well."
In response to a question about whether or not she told the president that he had gone too far with the tweets, she said, "Of course, I did many times. From the beginning of the campaign."
She went on to say,
Sometimes he listens, sometimes he doesn't. I think he hears me. But he will do what he wants to do on the end. He's an adult. He knows the consequences. And I give him my opinion. And he could do whatever he likes with it.
People on Twitter responded with concerns after watching the interview between the newly-elected president and first lady.
It comes as a surprise to many that President Trump and his ex-wife Ivana Trump are in such constant communication, but even moreso that she advises him on his Twitter activity. However, their daughter, Ivanka Trump, wrote in her 2009 book, "The Trump Card," that both her parents had the same passion for life and adventure, and that they were, "strikingly similar in that regard. They've grown apart, and even when they were together they seemed to be cut in different ways, but they do share an approach to life: all out, all the time."