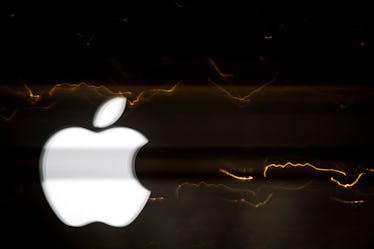 Apple Revealed The New iPhone XS With A Song You'll Be Obsessed With
Jack Taylor/Getty Images News/Getty Images
Well, it looks like I'm gonna have a new song stuck in my head for the rest of the day. If you watched the Apple event held at Steve Jobs Theater in Cupertino, California, then you might know what I'm talking about. Apple used the Sept. 12 gathering to release the iPhone XS, and the company did it in a very catchy way. While introducing the new device, the company played a song that you're probably already be dancing to. In case you're wondering, the iPhone XS promo song is called "Nothing Burns Like The Cold," and it's by Snoh Aalegra ft. Vince Staples. Now, you can download the tune and dance along with it over and over again.
"Nothing Burns Like The Cold" by Snoh Aalegra ft. Vince Staples can be heard on Spotify and iTunes — and you can also hear it on YouTube. It's an easygoing song with a jazzy kick that you'll be singing for days.
Believe it or not, this isn't the first time Apple used a catchy AF song to advertise a new product. Back in fall 2017, the company released a commercial advertising the iPhone X — and it stopped me in my tracks. Sure, I was taken aback by the product, but I also loved the song that was used to advertise it. For those of you wondering, Apple used the tune "Best Friends" by Sofi Tukker ft. NERVO, The Knocks & Alisa Ueno in the ad. It's so freaking catchy, and every time I hear it I think about Apple's iPhone X (and people singing along with Animojis).
Take a look at the commercial for yourself:
Apple isn't the only company that uses catchy music to advertise new products, though. Samsung also used a now-popular tune at its Unpacked event in Brooklyn, New York on Aug. 9 while unveiling the Galaxy Note 9. It's just as catchy as Apple's choice, and it'll surely get stuck in your head.
The track that Samsung used is called "Thunderclouds," and the artists behind it are Labrinth, Sia, and Diplo (aka LSD). The song is dreamy (just like the Galaxy Note 9), and gives off total beach vibes. It's safe to say that Samsung definitely chose the right tune to bring its new phone into the world with.
Let's talk about the track a little bit more, though. Sia fans were probably happy to hear the singer's voice kicking off the tune, with her collaborators following shortly behind. She starts off with the lyrics, "All I need is one / One old man is enough / Babe, you got it wrong / Please turn your fears into trust, to trust." Deep, I know.
Once you hear Sia's introduction, you'll probably be hooked on the entire track. Take a listen below, and thank Samsung for showing you such a cool song.
Apparently, tons of listeners learned about "Thunderclouds" from Samsung's ad — and they took to Twitter to share their exciting discovery.
I don't know about you, but I also learned about "Thunderclouds" from Samsung, and I'm happy I did. I'm also stoked that I learned about "Nothing Burns Like The Cold" from Apple's event.
When you think about it, what would a product launch even be like without music? I don't want to find out.