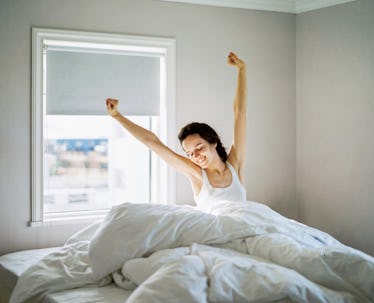 This New iHome Smart Clock Will Make Sure You're Never Late To Work Again
Let's be honest with ourselves: The whole "morning person" phenomenon is pretty much a myth. Parting ways with a comfortable bed before the sun's up is never without its challenges, but now there is a gadget that can make the process a little less excruciating. The iGV1 is the new iHome smart clock that'll help you get to the office right on time, so prepare to do away with the hassle.
The ever-so-sleek device is enabled with Google Assistant and features a modern time and alarm display. Not only does it look like a product of the future, but it also allows us a little extra time to snuggle under the covers. Want to start the coffee maker? Need a scoop on the morning news? iGV1's on it. I personally love that it'll control the thermostat, so whenever my roommate tries to pull a fast one with her sub-zero temperatures, my trusty iGV1 will be ready to crank up the heat. This little guy is destined to be my new partner in crime.
The new product will also help put a spring in your step when you wake up thanks to its Google Play Music, Spotify, and Pandora options, among other streaming services. If you need some tunes to help you feel less like a zombie after a night under the covers, you've got it. Perhaps there is a dance playlist that'll make you feel eager to conquer the day (chances are, I'll need to play mine at full blast, so apologies in advance to anyone in my building).
Before you make your way to the Apple store, there are a few things to know. iGV1 just made its debut at The International Consumer Electronics Show (CES) and plans to hit shelves "soon," according to reports from Mashable. It'll be available in major retailers for $139.99, a totally doable option. It's certainly going to be an exciting near-future purchase and one that's guaranteed to be a new staple of my apartment.
Still need a little help with that whole "getting out of the door" problem? Fear not, iGV1 is just one way to get the ball rolling before you head to work. You can also plan a morning beauty routine that'll make you look forward to hopping out of bed. Based on your zodiac sign, there are a bunch of looks to try — a matte brown smoky eye for the Taurus, a bold cat eye for the Libra, and so on. Whatever you're doing, ask iGV1 to play your favorite newscast while you're getting ready.
Of course, you can also use the device's streaming services while you exercise in bed (yes, in bed). Thanks to the Wakeout app, you can totally get into shape from your favorite spot. The main goal is to begin the day feeling refreshed and energized, all in three minutes. You are given three various workouts after you plug in an appropriate wakeup time. There are a series of kicks, pillow punches to help you greet the morning. Hey, if you can use pillows instead of dumbbells, why not?
While setting a new routine can be tricky, this is a relatively painless way to start your day on the right foot... without actually using your feet. Give it a whirl before your coffee (let iGV1 get the machine brewin') and you just might actually enjoy it.
Call me crazy, but I'm actually looking forward to 7 a.m. These tools and tricks are a good place to start if you're looking to ease the pain of getting up. See you on the Best Buy line.
Check out the entire Gen Why series and other videos on Facebook and the Bustle app across Apple TV, Roku, and Amazon Fire TV.