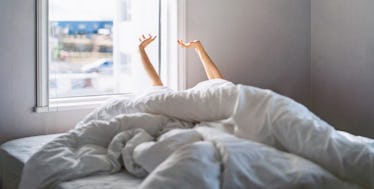 This Genius App Will Make You Do Silly Bedridden Workouts Before Waking Up
The hardest part about getting out of bed is getting out of bed. When the room is cool and the pillows are perfectly conformed to your body, breaking free of a blanket cocoon might as well be considered torture. Exercising at an ungodly hour is for the overly ambitious, and I'm certainly not inclined to break a sweat before brushing my teeth. It's probably in my best interest to do a little something before starting the day, but getting into that habit is the first roadblock I need to overcome. The new Wakeout app lets you exercise in bed, so I have no choice but to try the three-minute long routines.
The commitment is small, but it's a good place to start. I'll never be one of those women who puts on her Nikes at 5 in the morning, not only because I'm exhausted, but I'm not too keen on running by myself when no one else is up and the sun isn't out. Wakeout is a perfect alternative.
The main goal is to begin the day feeling refreshed and energized, all in three minutes. You are given three various workouts after you plug in an appropriate wakeup time. Though I have yet to actually begin, there are small series of kicks, pillow punches, and stretches that I can totally do without feeling overwhelmed.
This is basically like Planet Fitness for my apartment, so I'm pretty excited about doing a workout routine without actually stepping foot inside the gym (though my membership bill continues to come every month). Before I get consumed with work and whatever craziness is happening in the world, I can have three minutes to focus on myself. If I really want to take things up a notch, I might even put on some tunes (realistically, probably "tune") while I'm doing crunches with my great white shark pillow pet.
While setting a new routine can be tricky, this is a painless way to start your day on the right foot... without actually using your feet. Give it a whirl before your coffee and you just might actually enjoy it. I'll let you know how successful I am tomorrow once I start.