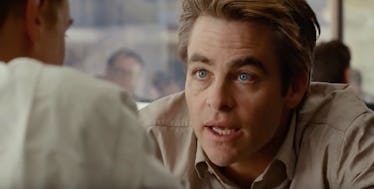 The 'I Am The Night' Trailer Will Give Chris Pine & Patty Jenkins Fans Serious Chills
YouTube/TNT
There's a Wonder Woman reunion of sorts on the entertainment horizon, but it's not exactly what you think. Chris Pine and director Patty Jenkins have teamed up for a limited series and the project is a far cry from the big screen comic book blockbuster they previously collaborated on. TNT released the chilling I Am The Night trailer on Tuesday, and the six-episode event is shaping up to look like a compelling can't-miss mystery.
Pine stars as a former marine-turned-reporter, Jay Singletary, who is working to uncover the truth surrounding a Hollywood scandal connected to the Black Dahlia murders. Jay discovers Fauna Hodel (India Eisley), a young woman who is searching to uncover her mysterious past after being given away by her teenage mother at birth. As the film's snyopsis notes, "Fauna begins to investigate the secrets to her past, she follows a sinister trail that swirls ever closer to an infamous Hollywood gynecologist, Dr. George Hodel (Jefferson Mays), a man involved in the darkest Hollywood debauchery."
"I'm gonna find out everything. And I don't care what it breaks," Fauna declares in the stunningly eerie clip.
From the ominous 1950s LA noir backdrop to the unraveling of a twisted crime story inspired by true events, it's hard not to be intrigued by this action-packed trailer.
Patty Jenkins has a successful history working in the crime drama genre. She directed the pilot episode of AMC's The Killing and helmed 2003's Monster. I Am The Night was announced last year and was originally slated to be called One Day She'll Darken (the title of Fauna Hodel's autobiography), but that title has apparently been scrapped.
"Patty Jenkins is a phenomenally talented director who has always delivered powerful characters, from the unforgettable true-life serial killer in Monster to the game-changing superhero warrior in Wonder Woman," EVP Original Programming for TNT Sarah Aubrey said in a statement. "One Day She'll Darken is a mind-boggling true mystery with unpredictable twists and turns and edge-of-your-seat chills. Sam Sheridan, an expert storyteller, has delivered scripts that entertain, frighten and tell tales of redemption and a powerful search for identity. Chris Pine has wowed us with so many of his performances, and knowing how multi-dimensional his character is in One Day She'll Darken, we are so lucky to have an actor as talented as he is to lead this cast."
Jenkins is currently back behind the camera filming Wonder Woman follow-up Wonder Woman 1984. Chris Pine, aka Steve Trevor, is set to reprise his role somehow in the Cold War-centric sequel after (spoiler alert!) meeting a tragic, albeit humanity-saving, end in the first flick.
Every major movie star is doing TV these days, so it's not very shocking to see an A-lister like Chris Pine jumping into the small-screen prestige miniseries format for I Am The Night. The Wrinkle in Time star has been keeping very busy — he'll appear in the upcoming historical King of Scots drama The Outlaw King this November. There's also more Star Trek on the way, in addition to the recently-announced spy thriller All The Old Knives, where Pine will play opposite Michelle Williams.
"Chris' skill, talent and generosity blew me away, every day. Making that kind of performance look easy is epic badass. He's a beast," Patty Jenkins raved about the actor last year via Twitter.
"Patty is just directing the daylights out of it," Chris gushed about Patty prior to Wonder Woman's release last year. "It's shot beautifully. It feels so wonderfully period, but also with this wonderful pop sensibility."
It's nice to see Pine and Jenkins continuing their creative partnership. Who knows what they'll take on next?
I Am The Night is set to premiere on TNT in January of 2019.