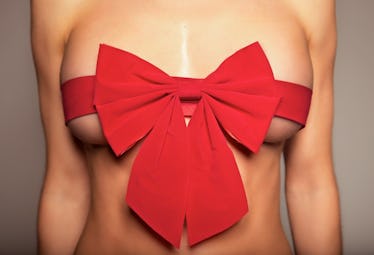 The Holiday Sex Position You Need To Try, Based On Your Zodiac Sign
The holiday season is here, which means two things: It's cold AF outside and 'tis the season to be giving... and receiving. And what better way to make the best of both things than with some hot, seasonal-inspired sex? I mean, this is cuffing season, after all, so you might as well make the most of it by getting festively freaky with some holiday sex positions to try for 2018 that are sure to please, because they are based on your zodiac sign. Your zodiac sign can tell you a lot about yourself, your needs, and your preferences — including some insights and suggestions on ways to spice up your sex life.
Just like each zodiac sign has its own unique personality traits, they also have their own unique erogenous zones. So, for really hot holiday sex, try focusing on sex positions and activities that maximize access and opportunity for pleasure in those areas. After all, it only makes sense that focusing on these all-too-often overlooked parts of your body will help get you into a, ahem, celebratory mood. Plus, it will feel so amazing, you'll be convinced that orgasms are the real reason for the season. So, here's how you should get it on with bae tonight based on your zodiac sign — and make this a very merry holiday season for everyone.