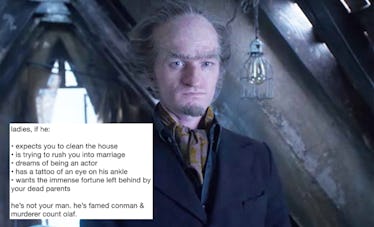 These Hilarious "He's Not Your Man If" Memes Offer Solid Dating Advice
Netflix/Twitter
Modern dating is tough to navigate, y'all, and the Twitterverse is doing what it does best and making a meme about it. With cuffing season upon us, there's never been a better time to figure out who's not your future S.O. while searching for everlasting love, and according to the internet, those individuals include James Joyce, Mr. Brightside, and Rutherford B. Hayes. Needless to say, the "he's not your man if" meme going viral on Twitter is weird AF, and TBH, it's totally winning November's meme offerings.
On Friday, Nov. 23, Twitter users fresh off their Thanksgiving turkey feasts and dreaded relationship status questions took to the social media platform to bemoan the current state of dating. There's nothing like fielding countless comments about your lack of a boyfriend or girlfriend from relatives to fire up the imagination, and the Twitterverse delivered with the "he's not your man if" meme that you never knew you needed. The entries start off like a regular dating post advising you not to talk to that jerk who doesn't call you, doesn't text you back, and never likes your Instagram posts (so rude). But that's when the meme takes a bizarre but totally hilarious turn, with users referencing everyone from Aristotle to Julia Roberts to Clippy the Microsoft Word Office assistant. The results? Funny AF. The nerdy meme game is strong, and I'm so here for it. Who knew Ulysses writer James Joyce was the original f*ckboi?
There's nothing quite like the genius intermingling of two memes, and this "distracted boyfriend" meme combination has to be one of my favorites.
References run the gamut of historical figures, computer programs, and literary characters, and the outcomes are pure comedy gold. Hey, I never imagined I'd be laughing over a meme, let alone historical facts, about 13th century BCE Egyptian Pharaoh Ramesses II, but here we are.
Even companies like Fenty Beauty and Random House Publishing House are jumping on the meme bandwagon because the opportunities are just too good to pass up.
If you need further proof that 2018 is the year of weird memes, look no further than the "they did surgery on a grape" posts that have been circling the internet over the last couple of days. On Friday, Nov. 23 and Saturday Nov. 24, an Aug. 11, 2010 video surfaced of a da Vinci Xi robot performing a highly detailed surgery on a grape. Because we can't have nice things, the Twitterverse jumped on the ridiculousness of the situation, and their creations will make you LOL.
Even Wendy's got in on the silliness, tweeting, "No one can ever say dipping fries in your Frosty is weird again. They did surgery on a grape."
Needless to say, people had way too much time to dig into the bowels of the internet over the long Thanksgiving weekend, and these weird tweets are here to show for it. Let's be real, who needs a man when you've got the Twitterverse to entertain you with memes?