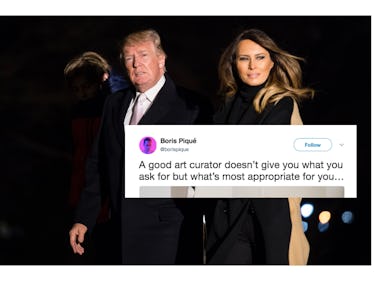 This Museum Offered Trump A Gold Toilet & Twitter Is Living For The Shade
Pool/Getty Images News/Getty Images
Welcome to the shade room, museum edition. Just when you thought Donald Trump could have anything he wanted, New York City's Guggenheim Museum proved otherwise. According to The Washington Post, Donald Trump asked to "borrow" Vincent Van Gogh's famous "Landscape With Snow" painting from the Guggenheim for he and first lady Melania's living quarters at the White House. While borrowing artwork has been common for presidents and first ladies in the past, the Guggenheim reportedly denied the request and offered Donald Trump a golden toilet instead.
According to the Post, Guggenheim curator Nancy Spector responded back to Trump via email, stating that though they couldn't let the first family borrow the 1888 Van Gogh painting, they could offer another available piece. However, the consolidation prize probably isn't exactly what Trump expected.
In place of the Van Gogh, Spector reportedly offered "America" by Maurizio Cattelan, a fully functioning 18k solid gold toilet. The piece had been exhibited in a fifth floor public restroom. Spector reportedly stated in her email that the artist would be happy to loan the piece to the White House once the exhibition ended.
Spector wrote,
The artist would like to offer it to the White House for a long-term loan. It is, of course, extremely valuable and somewhat fragile, but we would provide all the instructions for its installation and care.
Van Gogh vs. a golden toilet. Seems like a fair trade.
Elite Daily reached out to the White House for comment, but did not receive a reply by the time of publication.
On Aug. 17, 2017 Spector also wrote an entry for the Guggenheim's blog titled "Maurizio Cattelan's Golden Toilet In The Time of Trump," which discusses the relationship between the theme of affluence and the timing of President Trump's presidency bid. Coincidence? Probably not.
Spector wrote,
That Trump is synonymous with golden toilets was proven not at the Guggenheim but in a recent satirical pop-up 'exhibition' in midtown Manhattan staged by Trevor Noah of the Daily Show that he called the 'Donald J. Trump Presidential Twitter Library.' In addition to framed tweet storms, visitors were treated to a 'tour' of the Oval Office, where they could don a Trump wig and pose with an, albeit fake, golden toilet.
This isn't the first time Trump has been associated with a golden bathroom throne.
As Spector noted, The Daily Show's Trevor Noah staged a pop-up gallery in Midtown Manhattan in June 2017 titled "Presidential Twitter Library." The pop-up featured enlarged versions of Trump's infamous tweets alongside a golden toilet where visitors could sit and take pictures.
However, Spector's suggestion of installing the golden toilet in the White House might not be such an absurd idea to the president. Donald Trump is well known for his love of gold decor. His Fifth Avenue New York penthouse is covered with 24k gold and marble as well as gold trimmings. Plus, as if that's not lavish enough, Trump is the only president to own his own plane which features 24k golden-plated bathroom fixtures. So, a golden toilet might not be such a stretch in the eye's of Trump.
Cattelan, the artist, has made a name for himself in the art world through his satirical and often controversial art pieces, sculpture mainly being his medium. His past work has consisted of depictions of notable figures including Pope John Paul II and Adolf Hitler.
The Post reached out to Cattelan about his reasoning behind offering the sculpture to Trump.
"It's a very delicate subject," Cattelan told the Post. "What's the point of our life? Everything seems absurd until we die and then it makes sense."
The reported email is certainly the perfect mix of absurdity and shade. Of course, Twitter had a few thoughts and hilarious jokes on the matter.
The White House has yet to respond regarding the Guggenheim's email, according to The Washington Post.
Borrowing well regarded museum works of arts isn't uncommon for White House families. Former president Barack Obama particularly introduced some changes to the White House collection, by exhibiting varieties of contemporary artists including Edward Hopper, Josef Albers, Alma Thomas, and others.
Well, any chance of a Van Gogh being added to that collection is officially down the drain.
Donald Trump: 0; Guggenheim: 10,000.