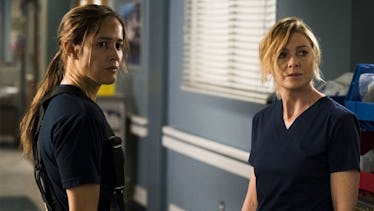 Next Week's 'Grey's Anatomy' & 'Station 19' Crossover Promo Is As Epic As You'd Expect
ABC
Next week's Grey Anatomy is due to bring us some neighborly action when the squad of Station 19 stops by Grey Sloan Memorial with patients in need. In a two-hour crossover block, the firefighters and doctors meet up again for some casual life-saving with a side of flirtation. The Grey's Anatomy Season 15 Episode 4 promo promises another Station 19 crossover that you definitely won't want to miss.
Andy Herrera, Station 19's equivalent of leading lady Meredith, was first introduced in a March 2018 episode of Grey's Anatomy, appearing at the hospital with accident victims alongside rookie firefighter and former Grey Sloan surgeon Ben Warren. In the official Station 19 premiere later that month, Andy's fire chief dad was hospitalized and Meredith whisked her away to cry in peace for 90 seconds. The exchange forged a steely, unspoken bond between the two women, but the shows' latest crossover doesn't look quite as dramatic. In the teaser, Meredith arrives at work dolled up for a blind date just as Andy appears to issue a friendly challenge toward Ben, so cross the idea of another closet meltdown off your list of episode theories.
ABC describes the upcoming Grey's Anatomy episode, "Momma Knows Best," with the following synopsis:
Meredith turns heads when she shows up to work done up and ready for her blind date later that day, while Alex makes a questionable decision in order to save a patient. Meanwhile, the burden of knowing Teddy's secret keeps Maggie up at night, ultimately making her decide she has to tell someone.
While the summary focuses more on Grey's Anatomy's own drama than the antics the Station 19 crew may bring, the crossover promo fills in the gaps. Meredith and Andy seem to have a breezy encounter in the hospital as Meredith is optimistically nervous about her date. Their relaxed body language also hints that whatever case Ben and Andy brought in isn't as dire as previous scenarios. Instead, it seems we're getting a fashion show of one of the outfits matchmaker Cece convinced Meredith to go buy in Episode 3, "Gut Feeling."
While Ben and Andy seem to have the time to wander the hospital, fellow Station 19 firefighter Dean Miller meets Maggie, whose mind is likely grappling with the weight of Teddy's secret pregnancy and Jackson's sudden departure. Turning his flirt on in the promo, Miller asks out Maggie, and the teaser definitely suggests that she's into the idea. Jackson who? Also, does Maggie decide to confide in Miller about Maggie?
Meanwhile, the action at the hospital seems to die down by the time Station 19's part of the crossover begins. ABC describes the episode, "Under the Surface," in the summary below, saying:
It's a life-and-death situation when a young boy falls into water pipes beneath the city of Seattle. With the clock ticking, the firefighters of Station 19 jump into action to save his life.
Here's to Meredith stepping away from the hospital to find a mate and the inevitable firefighter-doctor safety posters Grey Sloan and Station 19 will definitely issue across Seattle soon. Season 15 of Grey's Anatomy continues on Thursday, Oct. 11, at 8 p.m. ET on ABC. Season 2 of Station 19 follows at 9 p.m. ET.