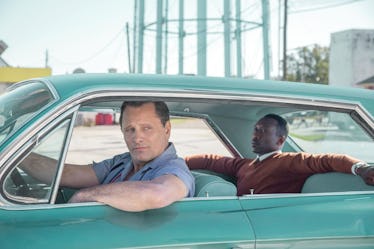 The 'Green Book' Soundtrack Will Fill You With So Much Joy
Universal Pictures
The Golden Globes nominations were announced this week, and Green Book, the Viggo Mortensen and Mahershala Ali period piece based on a true story, landed no less than five. For some who have seen the movie and know it's about a black pianist and his bodyguard traveling through the deep south during Jim Crow, it might come as a surprise to find the film's nomination for Best Picture is in the Musical/Comedy category and not in Best Drama. But one look at the Green Book soundtrack will clear up any confusion.
Green Book has its share of drama, to be clear. Ali's role of Don Shirley is not only of a genius musical pianist who happens to be black, but he's also gay. His tour takes him to a time and place where one was already dangerous enough, both could easily get one killed.
And yet, the story is also about the joy of music, and how Shirley's gift helped open the heart and mind of Mortensen's character Tony Lip. The soundtrack is a celebration of this music, even including a piano piece played by the real Don Shirley, plus many other fantastic songs of the era, intermixed with original compositions by the movie's composer, Kristopher Bowers, who is known for his work on shows like Netflix's Dear White People.
Here's the full Green Book soundtrack list:
"That Old Black Magic" - The Green Book Copacabana Orchestra
"881 7th Ave" - Kris Bowers
"So Long Lovers Island" - The Blue Jays
"Dr. Shirley's Luggage" - Kris Bowers
"I Feel Fine" - Kris Bowers
"A Letter From My Baby" - Timmy Shaw
"You Took Advantage Of Me" - The Blackwells
"Blue Skies" - Kris Bowers
"Dear Dolores" - Kris Bowers
"Vacation Without Aggravation" - Kris Bowers
"Cookin'" - Al Casey Combo
"What'cha Gonna Do" - Bill Massey
"Water Boy" - Kris Bowers
"Dearest One" - Jack's Four
"Field Workers" - Kris Bowers
"I Got A Call / The Exception" - Kris Bowers
"Makeup For Wounds / It's A Complicated World" - Kris Bowers
"Happy Talk" - Kris Bowers
"I Love My Baby" - Bobby Page and The Riff-Raffs
"Governor On The Line" - Kris Bowers
"Need Some Sleep" - Kris Bowers
"Make The First Move" - Kris Bowers
"Lullaby Of Birdland" - Kris Bowers
"Let's Roll" - The Orange Bird Blues Band
"Backwood Blues" - The Orange Bird Blues Band
"The Lonesome Road" - Kris Bowers
"Mmm Love" - Bob Kelly
"Thanks Officer" - Kris Bowers
"If You Want Me To" - Kris Bowers
"Thank You For The Letters" - Kris Bowers
"The Lonesome Road" - Don Shirley
The soundtrack, like the movie, has been out since before Thanksgiving, but with an awards season push over the next two months, both will be finding their way into mainstream consciousness over the holidays and into 2019.
Green Book is already in full release in theaters across the United States. The soundtrack is available for purchase and streaming on Amazon and other musical retailers.