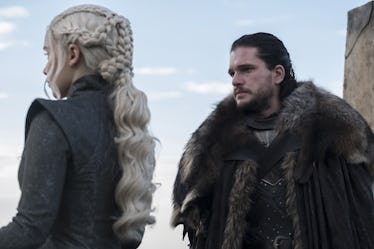 The 'Game Of Thrones' Actors Revealed What It Was Like To Read The Finale Season Scripts
HBO
The anticipation for fans to find out what happens in the final six episodes of Game of Thrones is at an all-time high. But if viewers think they are excited to learn how the lives of Daenerys Targaryen and Jon Snow turn out, imagine what it was like for the actors. Not only have they been living and breathing these characters for a decade, they've done so while outwitting and outlasting hundreds of costars. According to the Game of Thrones actors, the finale scripts' arrival a few days before the table read was a banner day.
According to Entertainment Weekly, the scripts arrived by email only two days before last year's October table read and were heavily protected by layers of digital security. So many that Liam Cunningham, who plays Davos Seaworth, couldn't get his to download because he was on the road at a convention that weekend. He showed up the first day having not seen his script at all.
Cunningham wasn't the only one. Kit Harington could get his to download, but refused to read ahead. He wanted to go into the first readthrough completely cold. The result was that he burst into tears while reading his part aloud.
Twice.
The rest of the cast, on the other hand, couldn't wait. Emilia Clarke, who plays Daenerys, was apparently out with her friends when she got the email and dropped everything to run home and read it.
I turned to my best mate and was like, 'Oh my God! I gotta go! I gotta go!' And I completely flipped out.
Reading what happens to her character was an experience like no other.
Genuinely, the effect it had on me was profound. That sounds insanely pretentious, but I'm an actor, so I'm allowed one pretentious adjective per season.
Peter Dinklage, who plays Tyrion Lannister, admitted he finally broke his decade-long habit of checking first to see if he survived and then backtracking.
This was the first time ever that I didn't skip to the end.
Sophie Turner, who plays Sansa, admitted she had to digest what she'd read slowly.
It was completely overwhelming. Afterwards, I felt numb, and I had to take a walk for hours.
But perhaps the two people who were the most nervous were the ones in charge: Showrunners David Benioff and Dan Weiss. According to Benioff, the two of them were on pins and needles awaiting the responses:
We knew exactly when our script coordinator sent them out, we knew what minute they sent them, and then you're just waiting for the emails.
As for why Harington cried, he admits the second time was less about what happened and more about the show coming to its conclusion.
The second time was the very end. Every season, you read at the end of the last script 'End of Season 1,' or 'End of Season 2.' This read 'End of Game of Thrones.'
Fans aren't going to be any more ready than Harington was. The end of Game of Thrones arrives on HBO in 2019.