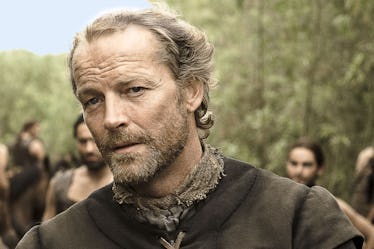 'GOT' Actors Want Fans To Know The Season 8 Finale Won't Have A Happy Ending
HBO
Game of Thrones is currently filming its last season, and now that all the scripts have been given out, the show's actors are spilling the tea about what goes down in the shocking final minutes. While fans know that the Game of Thrones Season 8 finale will include a few important deaths and that the final script moved some cast members to tears, one actor insists that viewers shouldn't get too excited about seeing their favorite characters ride off into the sunset. In fact, Iain Glen, the actor who plays Ser Jorah Mormont, warned that the finale won't please all GoT fans, especially those who are looking for a happy ending.
In an interview with The Indian Express, Glen said that he's one of the few people who's read the final script, which he described as "brilliant." However, Glen also said that even though he's happy with where the series ends, he knows that not every fan will love the finale:
When I read it, I thought it was rather brilliant. I am a bit of a fan of the series as well, and it satiated my expectation and hopes, I felt (it was the) conclusion… But we will just have to see. You know with something this big like Game of Thrones, you cannot please everyone. All I can say is that we will be doing what we have done before and the writers have written great episodes. They have had a great strike rate up to now and I am sure that will continue.
Not gonna lie, that "we will just have to see" isn't making me feel super optimistic about the fate of Cersei Lannister, Daenerys Targaryen, and Arya and Sansa Stark. In the past, George R. R. Martin has described the ending of his book series as "bittersweet," so it's likely that the HBO drama will follow suit — even if producers choose to deviate from Martin's books. That being said, "bittersweet" implies that at least something semi-good will happen, and I can't imagine that watching every main character die throughout the finale would be good for anyone, so I'm choosing to remain slightly optimistic here.
At the INTV conference in Israel on Tuesday, HBO's SVP of drama Francesca Orsi made a few statements that support Glen's somewhat bleak view of the finale. According to Orsi, fans shouldn't expect many characters to come out alive after the finale's epic events. Recalling the table read for the six episodes in Season 8, Orsi said:
None of the cast had received the scripts prior, and one by one they started falling down to their deaths.
Um, what? Does this mean that the Westeros population will be zero when the series wraps up in 2019? Orsi didn't specify whether these deaths happen in the finale or throughout Season 8, but she did make it clear that no one is safe in the show's final six episodes. It's easy to hope that only Westeros' villains will be the ones "falling down to their deaths," but knowing Game of Thrones, it's a safe bet that a few fan favorites will meet their end, as well.
Amid all this depressing news, there are a few things to look forward to when it comes to the finale. In the same interview, Orsi also said that the table read was "amazing" and left the cast with "tears in their eyes." And in February, Maisie Williams described the show's final moments as "surreal" and said that when she read the script, she had to lay down to digest what just happened. Plus, HBO has multiple Game of Thrones spin-offs in the works, so fans aren't leaving Westeros any time soon.
The eighth and final season of Game of Thrones will premiere on HBO sometime in 2019.