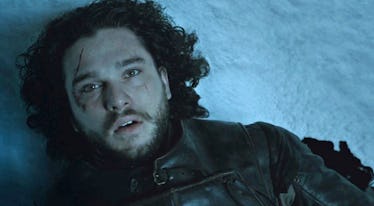 An HBO Exec Just Dropped A Huge 'Game Of Thrones' Finale Spoiler & OMG
HBO
It's no secret that Game of Thrones loves to kill off its main characters, and apparently the show is going to kick things up several gory notches in its upcoming final season. An HBO exec that got to sit in on the table read for the final episodes of Game of Thrones just dropped a bombshell that makes it sound like the fantasy series will end with pretty much everyone in the cast dying. So, does everyone die in the Game of Thrones finale? Let's discuss this new jaw-dropping information.
During an HBO-centric panel at the INTV conference in Jerusalem on Tuesday, the network's SVP of drama, Francesca Orsi, made a statement about the final season of Game of Thrones that fans are probably going to find pretty alarming. According to Orsi, the last few episode of the fantasy saga will involve a number of major deaths... possibly even ending with all of the main cast dying. Orsi recalled being present at the table read for the six episodes that make up the upcoming final season, and noted that they involved a lot of death among the main cast:
None of the cast had received the scripts prior, and one by one they started falling down to their deaths.
Ummmm, excuse me!?!? Are we going to be watching literally everyone that we have come to love in Westeros die when Game of Thrones returns in 2019? Francesca Orsi's statement does not specify whether the show will end in everyone dying, but it sure sounds like we will be seeing a pretty good chunk of the main cast wind up dead. I mean, "one by one they started falling down to their deaths" is not a very comforting phrase.
Although, in the Game of Thrones world, this revelation is not all that surprising. The series has become well-known for its shocking death scenes involving main characters, stretching back to the first season when Ned Stark — initially believed to be the primary protagonist of the whole series — was beheaded after just a handful of episode. (Spoiler alert for 7 years ago, I guess).
After Ned, the series continued to keep its audience on the edges of their seats by continuing to kill off main characters that would be untouchable in other shows due to how central they were to the plot. In the Season 6 finale, the show ramped this trope up to its most teasing height by showing Jon Snow bleeding out after being repeatedly stabbed by the Night's Watch, leaving fans on a cliffhanger of whether the main character was actually dead or not. Turns out, he did die but was quickly revived in the season premiere that followed... but now it is sounding like Jon Snow's revival may be short-lived.
Obviously, Francesca Orsi's statement is pretty depressing, but she did reveal some uplifting news along with all that death talk. According to Orsi, the scripts for the final season were all incredibly moving to the show's cast. She said that the cast gave the writers a 15-20 minute standing ovation after reading through the season, which is an insanely long time to stand and applaud when you think about it! Orsi also said there were a lot of tears in the room at the end:
It was amazing. By the very end, everyone looked down and looked up and tears were in their eyes.
The eighth and final season of Game of Thrones is set to premiere sometime in 2019. It will consist of 6 episodes. HBO is also developing up to five spinoff series to air following the finale.