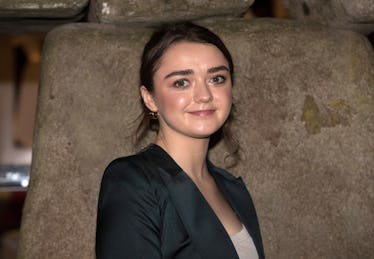 Maisie Williams Says She Knows How 'GOT' Ends & It's "Surreal"
Matt Cardy/Getty Images Entertainment/Getty Images
There's still over a year until the Season 8 premiere of Game of Thrones, but cast members are already beginning to discuss the game-changing final installment. During an interview on Jimmy Kimmel Live!, Maisie Williams revealed that she knows how Game of Thrones ends, and she promised fans that the show's final moments are "surreal." While Williams, who plays Arya Stark on the HBO drama, was careful not to give away too many spoilers, she insisted that longtime viewers will enjoy the finale much more if it's not spoiled. You hear that, GoT fans? Arya Stark says it's time to stop with the theories, and she's definitely not someone you want to ignore.
Production on Season 8 is currently underway, and Williams told Kimmel that this year on the Game of Thrones set is unlike any other. "It's a mammoth task this year. It's huge." And how exactly did Williams learn the fates of Arya Stark, Cersei Lannister, and Jon Snow? She read the final script in her bed, of course. "I was just in my bed, I think. Just reading," said the #relatable actress. "It's just surreal, to be honest," she explained about the show's final moments. "Being with this show for so long, and then it also having the following that it does, it's just everyone is waiting for this moment, and then you read it, and it's incredible." Williams says that the ending was so shocking that she had to lay down for a while to calm herself, so expect to call in sick the day after the finale.
Like all Game of Thrones cast members, Williams lives in fear of revealing a major HBO secret. But the young actress wasn't afraid to debunk some of the ongoing rumors about Season 8, including one that claims that there will be multiple fake endings shot to keep the finale's plot under wraps. "Well, I heard this, and I immediately thought, 'I don't think we've got the budget to shoot lots of endings,'" she said. When Kimmel countered that it was HBO President of Programming Casey Bloys who first hinted at multiple endings, Williams didn't miss an opportunity to throw major shade at Donald Trump. "As we know, sometimes presidents don't always tell the truth." Yaaaas. May we all bow down to the Queen.
Williams remained tight-lipped in the face of Kimmel's many questions, but there's one person she's always willing to spill to: her mom. "I sent my mom the scripts," she told Kimmel before wondering aloud whether this is actually allowed (spoiler: we're thinking it isn't). Williams joked, "My mom was like Tweeting out, 'I know the end of Game of Thrones.'" BRB, checking Williams' mom's Twitter account immediately.
Believe it or not, Williams visited Jimmy Kimmel Live! to promote her new film Early Man, not to tease us about the final installment of Game of Thrones. Early Man comes from the team behind Wallace and Gromit, the iconic clay animation series. The actress voices Goona, a soccer-loving, stone-age woman, in the new film, and the experience gave Williams an opportunity to act alongside Tom Hiddleston and Eddie Redmayne, among others. Clearly, Early Man is a big departure from the type of work she's doing on Game of Thrones, but Williams explains that it was an amazing experience. "I'm from Bristol, which is where the Aardman studios are based ... so I've always been so proud of Aardman. And then to be asked to be in it, and then also play Goona, who's like the best character ever, it was amazing. The best."
Game of Thrones doesn't return until 2019, so you'll have to head to the theater to get your Maisie Williams fix. Or just watch this amazingly genuine interview on repeat for the next year and a half.