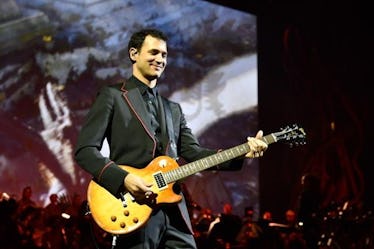 The 'Game Of Thrones' Composer Opens Up About His Favorite Scene To Write For
BB Gun Press
Do your friends tell you you're "celeb obsessed"? Do you follow your favorite celebs' every move? Know their Instagram histories so well that you can rattle off their inner circle by name and IG handle? If yes, Elite Daily's new series, SideClique, is just for you. We're bringing you everything you've ever wanted to know about the people living their lives right alongside our favorite celebs.
HBO once again raked in the Emmys nominations this year. But two shows dominated above all others, with 22 and 21 nominations each. The first is Game of Thrones Season 7. The other is Westworld Season 2. The shows have a lot in common, including a large crossover fan base. But they also share talent, most notably Game Of Thrones composer Ramin Djawadi, who writes the music for both series and earned two nominations this year, one for each series.
Djawadi is currently on break from his Game of Thrones Live Concert Experience world tour. He tells Elite Daily just how amazing it is to write music for two of the biggest shows in HBO history. "I always feel like my job is to enhance the scene, to paint out a color of what's already in front of me... A good example is 'The Light of the Seven.' It's a seven-minute scene, there's hardly any dialogue. So the music kind of was able to take over, do that slow build, do all the little storytelling and guide the audience."
When it comes to both Game of Thrones and Westworld, Djawadi admits his favorite compositions are the same ones: "I usually try not to have favorites, but in both cases, I would say it's the main title themes. It's fun because in both shows when you bring in the theme during the episode, it's always during special moments."
Game of Thrones Season 8's scripts were heavily guarded this year to protect spoilers. But Djawadi says that doesn't affect his work, as he doesn't start the process until after the season is finished filming. "90 percent of the time I work from the videos. Sometimes, and this was the case with Westworld, I was working with the scripts. I was working with Jonah Nolan on a previous show, he gave me a heads up... Normally, and this was the case with Game of Thrones, the show is already shot when I start working on it, so I get the full episodes, usually almost final cuts."
Even so, if Djawadi can visit the set while the filming process is going on, he does. "I love going to set if it's possible... it's a great inspiration for me to see how it all comes together. With Westworld, it was a little bit easier because it's shot here in L.A., so I went to the set several times. Game of Thrones, it's shot overseas, but even there I got to go a couple of times."
When it came to Westworld's second season, Djawadi says he loved when the show moved to new park locations. "We had an Indian version and a Japanese version of the cover songs, and I really enjoyed that... I have no idea where they will take us in Season 3, but geographically if there's anything that offers a step up to pull musical instruments from that area or time period, I'm going to try to incorporate that."
But before he gets back to working on either show, Djawadi's still got several tour dates to go on the Game of Thrones Live Concert Experience, where he says one of his favorite pieces to perform is "Light of the Seven." He tells me, "There are a couple of times in the show where I perform an instrument myself, and that's one of them. I play the piano and the organ... there's a walkway that comes out into the audience. So I'm actually sitting even closer, connected to the audience, and I perform this piece. That moment is always very special to me, I always look forward to it."
The Game of Thrones Live Concert Experience picks back up in North America in September and runs until mid-October. Tickets are available on the website.