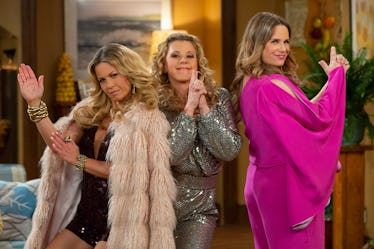 The 'Fuller House' Season 4 Trailer Will Keep You Laughing From Here To San Francisco
Netflix
It's Christmas time at Netflix, meaning lots of presents, which include a Chilling Adventures of Sabrina Solstice episode, a Great British Baking Show special, and an entire new season of Fuller House. The surprising hit spinoff of the original Full House is still going strong on the streaming service, and the brand new Fuller House Season 4 trailer reminds everyone the house is about to expand once again this season.
The good news is, as the show returns, fans will finally get a chance to see "America's Couple" DJ (Candace Cameron-Bure) and Steve (Scott Weinger) make a go of it. (This is their description of the relationship-to-be, for the record, uttered in the trailer.)
But this is not the only adorable moment to come. With a Christmas-themed episode as part of the Season 4 kickoff, the series will undoubtedly be pulling out all the delightful moments it can find for the Tanner brood. This includes Kimmy Gibbler, who is currently being a surrogate mom to Stephanie and Jimmy's baby, with only a little bit of micromanaging from the expectant mom-to-be about how she carries the child.
Check out the adorable trailer, reminding us the door to the Tanner house is still always open.
According to TVLine, Kimmy's pregnancy will be "anything but typical." Juan Pablo Di Pac, who plays Fernando, told the site the following:
She goes against everything you think a pregnant woman is going to be. She's doing cartwheels around the kitchen and eating the spiciest foods. She basically does everything Kimmy would normally do — only now she's pregnant.
As for Fernando, he's just as much up in Kimmy's business over the child as Stephanie is.
It's not so much that Fernando thinks it's his child. He thinks it's his pregnancy. Like, he thinks he's just as pregnant as her.
Accord to Deadline, the plot of Season 4 will pick up with the great move back to San Francisco.
Season 4 will pick up with Danny (Bob Saget), Joey (Dave Coulier), Jesse (John Stamos) and Rebecca (Lori Loughlin) all moving back to San Francisco. It also will follow Jackson's (Michael Campion) burgeoning romance and, of course, Kimmy's (Andrea Barber) pregnancy. Jodie Sweetin, Juan Pablo Di Pace, Soni Nicole Bringas, Elias Harger, John Brotherton, Ashley Liao also star — along with and Dashiell and Fox Messitt as Baby Tommy.
But fans need to keep the smiles going while they last. Rumors have been swirling this year will be the final season of Fuller House, and the episode count has dropped back to 13 installments this season — down from last season's high of 18.
Netflix says no decision about the show's future has been made as of yet, but with a showrunner shakeup behind the scenes between last season and this one leading to co-executive producers Steve Baldikoski and Bryan Behar taking over the reigns last-minute for the upcoming season, Netflix could decide the series has run its natural course.
Fuller House Season 4 premieres on Netflix on Dec. 14, 2018.