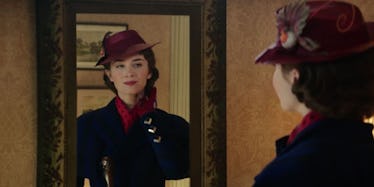 The Full 'Mary Poppins Returns' Trailer Is Finally Here & It Looks Magical
Walt Disney
Nothing is more sacred in millennials' hearts than the Disney classics they grew up watching, and doing anything with Mary Poppins is risky business. Fans were already warming up to the idea of Emily Blunt and Lin-Manuel Miranda taking the beloved story in a new direction in this year's sequel, but if anyone else was skeptical, they might want to change their minds. The full Mary Poppins Returns trailer is out, and its subtle, feel-good throwbacks and brand new characters will definitely make you want a spoonful of sugar ASAP.
Hitting theaters on Dec. 19, Mary Poppins Returns stars Blunt as the title star, taking over from the 1964 movie's leading lady Julie Andrews. The magical nanny flies back into the lives of the now grown Jane and Michael Banks, who are living together in their childhood home after the tragic loss of Michael's wife. As Mary tells Jane and Michael, she's there to "look after the Banks children" and, almost as an afterthought, Michael's young children as well.
While Michael has somewhat taken after his father and doesn't believe in the power of imagination and magic anymore, Mary Poppins and lamplighter Jack (Lin-Manuel Miranda) make it their mission to shine some light on the children's lives. As the trailer shows, this quest includes visits from A-list stars Meryl Streep, Angela Lansbury, Colin Firth, and Mary Poppins' original sidekick himself, Dick Van Dyke.
I'm not crying, you are.
Taking place 25 years after the first film's 1910 setting, Mary Poppins Returns features the now 92-year-old Van Dyke in a very meta appearance. In Mary Poppins, he donned old age makeup to play Mr. Dawes Sr., the feeble, slightly terrifying bank director who discovers how to laugh again by the end of the film. The character dies off-camera soon after his last scene, but in the Mary Poppins Returns trailer, Van Dyke appears in a nearly identical costume as the director's son, Mr. Dawes Jr., who Arthur Malet played in Mary Poppins. We're all in agreement that this man is a national treasure, right?
As for what kind of antics Mary Poppins 2.0 introduces the children to, jumping into chalk drawings has been replaced by seemingly spinning into a technicolored world of fluorescent clothing and, yes, dancing penguins. Of course, it wouldn't be a Disney movie without some singing, and the trailer offers a sneak peek at Blunt singing a new song to the children. It also looks like some synchronized swimming and floating in midair is in store for the kids, Mary, and Jack, while cool Aunt Jane keeps herself busy with what look like protest boards. Mrs. "Sister Suffragette" Banks would be proud.
With Streep appearing as Mary Poppins' cousin Topsy and Lansbury's balloon lady presumingly taking the metaphorical place of the bird woman, Disney fans are in store for a movie that combines the old and new for a soon-to-be classic film. We might not get a reprise of "Supercalifragilisticexpialidocious," but this feel-good trailer has already won over my nostalgia-loving heart.
Mary Poppins Returns is in theaters on Wednesday, Dec. 19, 2018.