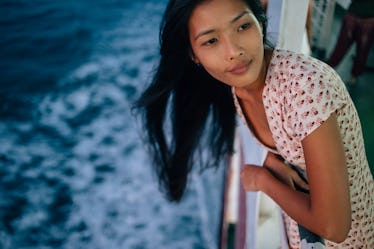 7 Things You Should Know About The Quiet Girl That She Probably Won't Tell You
I love me some peace and quiet. It's what so many of us strive to achieve when we're relaxing on vacation — so why is it that the quiet person in the friend crew can be so misunderstood? I've got some news for you — the friend who is quiet is not mean, sad, or even mad. They're just not talking as much as you, and that's totally OK — because it's their choice.
To all of my fellow quiet people out there, we're just more comfortable being listeners and thinkers rather than big talkers. We don't speak up unless we have something truly important to say. Instead of seeing that as normal behavior, some people see us as being anti-social. I'm here to say that couldn't be further from the truth. I can be the life of the party, rocking out on the dance floor all night long with my best girlfriends. It's just when I'm off to the sides in a group discussion when I don't interject as much. All of my quiet peeps, I hear you through your deep thoughts, and we can seriously relate on so many levels.
If you're someone who wants to know more about where the quiet girl is coming from, here are seven things you should know about her that she might not outwardly tell you.