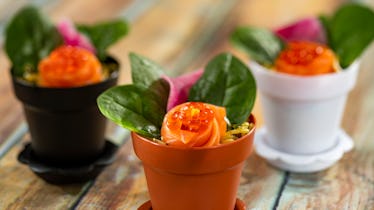 The Food At Epcot's International Flower & Garden Festival Is Blooming With Color
Courtesy of Disney Parks
Springtime at Disney World has arrived, which means the International Flower & Garden Festival is back at Epcot. If you're a foodie who loves additions to the menus at Disney, you likely look forward to any new festival, because you know there will be tasty and Instagram-worthy treats to try. The food at Disney's 2020 Epcot International Flower & Garden Festival is no exception, and with a selection of gorgeous bites served around the World Showcase, you'll want to book your trip to Florida ASAP.
The festival has officially kicked off at Epcot, and will run until June 1. That gives you plenty of time to try just about everything you've got your eye on. According to the Disney Parks Blog, there are also plant-based and gluten-free options this year.
Try a sweet and colorful Popsicle trio or salmon made to look like a beautiful flower. If the thought of those dishes already has your stomach growling, get your must-eat list going with any of these 11 food items. Not only are they incredibly delicious, but they're the kind of food that's almost too pretty to eat. That's why you need to snap pics for the 'Gram first so you're able to take that first bite without hesitation.