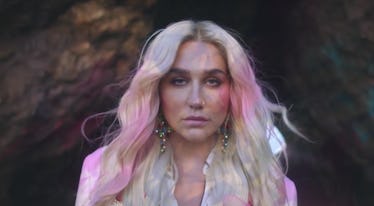 The First Trailer For Kesha's New Documentary Is Here & I'm Already Choking Up
Apple Music
Kesha is not done sharing her struggles with her fans yet. Last year, the pop star returned to the spotlight after years trapped in legal limbo and delivered her deeply personal album Rainbow, and now, Kesha is digging even deeper and showing fans everything she went through in her dark years with a documentary about the making of the album. Fans can watch the first trailer for Kesha's documentary Rainbow now, but be warned, even the trailer is a tearjerker.
Rainbow - The Film will document the arduous process of releasing Kesha's third studio album, Rainbow, which faced massive delays due to an ongoing legal battle between Kesha and her former producer Dr. Luke. Although Kesha penned an album's worth of songs in 2014, Rainbow took three years to finally see the light of day, since by contract, Kesha would have been forced to work with Dr. Luke in order to release it back then. In October 2014, Kesha sued Dr. Luke for alleged sexual assault, harassment, and emotional abuse, and the ensuing legal battle effectively muzzled the singer until the Supreme Court threw the case out in 2016 due to the statute of limitations running out. Elite Daily previously reached out to Kesha and Dr. Luke's teams for comment on the case but did not hear back by the time of publication.
Kesha released a statement at the time, stating that her lawsuit was "never about a renegotiation of [her] record contract," but about breaking "all ties that bind [her] to [her] abuser." Dr. Luke's legal team likewise released a statement, claiming that Kesha's accusations were "outright lies that have been advanced to extort a contract renegotiation and money."
With Kesha's label promising that she would not have to work with Dr. Luke on her album, the singer finally released Rainbow on Aug. 11, 2017, and she is celebrating the one-year anniversary of that release by sharing her documentary about the making of the deeply personal album. And if the trailer for Rainbow - The Film is any indication, the documentary is going to dive deep into all of the struggles Kesha went through in the process of putting out this album. "This record is quite literally saving my life," Kesha muses at one point, after talking about feeling trapped inside but putting on a front for others.
Check out the trailer for Kesha's upcoming documentary Rainbow - The Film below:
The documentary trailer includes a mixture of artistic photoshoots and raw behind-the-scenes footage, including a clip of Kesha getting advice from Ben Folds, one of the producers she worked with on Rainbow. The trailer also includes a clip of Kesha's performance at the Grammy Awards at the start of 2018, where she sang "Praying" backed by fellow female singers and a gospel choir.
But of course, the most important thing that the documentary promises to detail is the lengthy legal battle with Dr. Luke that Kesha slogged through for about two years. Although aspects of the court case were publicized widely, much of what Kesha was going through personally in those years has not been fully expressed. Although the trailer does not directly name Dr. Luke, it does open with Kesha talking about how things feel like they're too much to handle sometimes, and having to hide her pain from the public.
Kesha helped to direct Rainbow - The Film, along with her brother Lagan Sebert and cinematographer Kevin Hayden. The new documentary will premiere on Apple Music on Friday, Aug. 10.