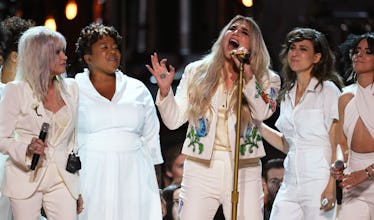 Kesha & Other Stars Sang Together For Time's Up At The Grammys & It Will Give You Chills
Kevin Winter/Getty Images
There's no way around it: 2017 was the year of Kesha. The one-time queen of synthy, dance-ready electropop emerged from a lengthy and emotionally taxing legal battle with a heart-wrenchingly soulful new album that felt more powerful than anything she had ever put out before. Rainbow, and in particular its first single, "Praying," became one of the biggest releases of the year, and given its background, also incredibly timely and emblematic of a culture of women entertainers standing up to men in power. To cap off her groundbreaking year, Kesha's performance at the 2018 Grammys proved yet again that she is a force to be reckoned with in the music industry.
In what was by far the most powerful and emotional moment of the Grammys this year, Kesha took to the stage clad in white and delivered a tearful performance of her hit song "Praying." Fellow performers Andra Day, Camila Cabello, Cyndi Lauper, Bebe Rexha, and Julia Michaels backed Kesha, along with a full choir.
On top of her performance on the Grammy stage, Kesha was also nominated for two of the biggest awards of the night. Her single "Praying" was up for Best Pop Solo Performance, and Rainbow was nominated for Best Pop Vocal Album. This marks Kesha's first (and second) Grammy nomination ever! Her competition was stiff in both of those categories, though. For Best Pop Solo Performance, she was up against Kelly Clarkson's "Love So Soft," Lady Gaga's "Million Reasons," Pink's "What About Us," and Ed Sheeran's "Shape of You." In the Best Pop Vocal Album category, she faced off against Coldplay's Kaleidoscope EP, Lana Del Rey's Lust for Life, Imagine Dragons' Evolve, Lady Gaga's Joanne, and Ed Sheeran's Divide.
But in one of the most depressing moments of this year's Grammy Awards, Kesha was shut out from winning both Grammys by Ed Sheeran. Like, I get that "Shape of You" was all over the place, but do you remember what it felt like when "Praying" came out? That was a truly exceptional moment in pop music, and a defining moment of 2017 pop culture. Despite that, Ed Sheeran was awarded both Best Pop Solo Performance and Best Pop Vocal Album over Kesha... and he wasn't even present at the ceremony to accept. Ugh, all i can say is justice for Kesha... again!
In 2017, Kesha's music career became much more than just songs. Back in 2014, Kesha sued her producer Dr. Luke for alleged sexual assault and battery, claiming that he drugged her and had sexual contact with her without her consent. Dr. Luke filed a countersuit for defamation, denying Kesha's allegations, and the ensuing legal battle continued for the next three years. During that time, Kesha was still under contract to Dr. Luke's production company, and was barred from releasing any new music without his approval — this meant that before Rainbow in 2017, Kesha had not released any new music since her Pitbull collaboration "Timber" in 2013, and hadn't released any albums since 2012's Warrior. After this five-year music drought, Kesha was finally freed up to release Rainbow in August of 2017, one month after she put out her comeback single "Praying."
Kesha released a statement about the case in 2016:
All I ever wanted was to be able to make music without being afraid, scared, or abused. This case has never been about a renegotiation of my record contract – it was never about getting a bigger, or a better deal. This is about being free from my abuser. I would be willing to work with Sony if they do the right thing and break all ties that bind me to my abuser. But at this point, this issue is bigger than just about me. I think about young girls today – I don't want my future daughter – or your daughter – or any person to be afraid that they will be punished if they speak out about being abused, especially if their abuser is in a position of power. Unfortunately I don't think that my case is giving people who have been abused confidence that they can speak out, and that's a problem. But I just want to say that if you have been abused, please don't be afraid to speak out. There are places that will make you feel safe. There are people who will help you. I for one, will stand beside you and behind you. I know now how this all feels and will forever fight for you the way perfect strangers have been fighting for me. Yes, I am very much a feminist, but more than that, I am a humanist. I believe in supporting my fellow human beings in being SAFE. We're all in this together. You are not alone. I love you and thank you.
Last year, Dr. Luke released his own statement, denying Kesha's allegations of sexual assault:
Dr. Luke vigorously disputes and denies that he ever raped Kesha Sebert, and he is asserting claims of defamation in a New York court against Kesha Sebert for making statements to the contrary, which statements Dr. Luke adamantly maintains are false.
In the months that followed the release of Rainbow, many powerful men in Hollywood were accused of sexual misconduct. "Praying," which Kesha wrote as a response to Dr. Luke's alleged abuse, became something of an anthem for the movement.
It made all the sense in the world for Kesha to perform at the Grammys this year, and once again remind the world that we are so lucky to have her. Maybe next time we can give her some of the actual awards that she deserves as well...