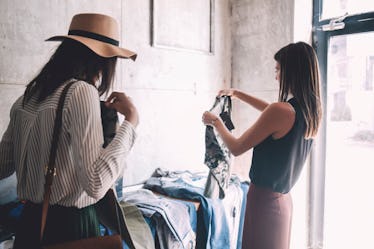 The First Time I Returned A Pricey Item I "Couldn't Live Without," But Did, Proved I'm An Adult
Think about the moments leading up to your latest shopping trip. It was a super busy time, because, let's face it: You're a busy gal. Everybody needs a treat now and then, and what better treat than a trip to the mall or your favorite boutique? It didn't take very long before you were at the counter with an overpriced item you desperately wanted. Do you need it, though? The first time I returned a pricey item I "couldn't live without," but did, I was convinced I am a real adult. Turns out, it wasn't such a must-have after all.
Over the years, I've set myself some guidelines for shopping. On the one hand, I've given myself limits on how much I should spend, according to the current balance in my bank account, and avoid stores that make me want to swipe on something that's impractical. On the other hand, I've given myself the freedom to splurge or buy an impractical item every now and then, within reason.
Sometimes, it's difficult to shop like an "adult." I mean, owning a super expensive waffle maker is kind of an impractical luxury for a working girl in her 20s. Even though it would be amazing to have waffles (with strawberries and whipped cream) for breakfast, who really has time to make them on the regular? So, returning an impractical purchase like this is truly an adult move.