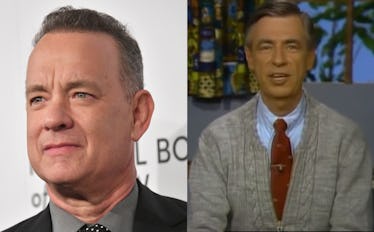 The First Photo Of Tom Hanks As Mr. Rogers Is Here, So Get Ready To Feel Nostalgic AF
Mike Coppola/Getty Images Entertainment/Getty Images & PBS
We need a trip to the Neighborhood of Make-Believe now more than ever, and while we don't exactly have the time to revisit it via repeats of Mister Rogers' Neighborhood, 2019's fall movie season has the next best solution. Based on the friendship between children's TV host Fred Rogers and a journalist who once profiled him, You Are My Friend is the sweet reminder of Mister Rogers that people need nowadays. The first photo of Tom Hanks as Mister Rogers is here, and it's suddenly a beautiful day in the neighborhood.
Hanks was announced to play Rogers in the film in January 2018, and while You Are My Friend has been described as a biopic, it focuses more on a certain stage of Rogers' life. As Variety reports, the movie takes inspiration from journalist Tom Junod's 1998 Esquire profile on Rogers and follows the two becoming friends and a cynical Junod changing his perspective on life. The Americans star Matthew Rhys plays Junod, but the most recent buzz about the film comes from Sony Pictures' release of a photo showing Hanks in costume as Rogers, who passed away in 2003.
In the photo, Hanks is perched in the door of a trailer and dressed in one of Rogers' most iconic outfits. Wearing sneakers, khakis, and a bright red cardigan, Hanks balances a book in his lap and has Rogers' precisely parted hairstyle. All he needs is a Daniel Striped Tiger puppet to complete the beautifully accurate transformation.
The original public television run of Mister Rogers' Neighborhood lasted from 1968 to 2001, during which Rogers often explained difficult subjects to children with gentleness and wisdom. He had the same soothing, heartfelt effect on adults, as evident by him accepting his Lifetime Achievement honor at the 1997 Daytime Emmy Awards. Rogers asked the audience to sit in silence and think of the people who loved them, prompting tears among some A-list guests.
The emotional moment probably won't make it into You Are My Friend, but we can still expect to need our tissues while seeing this in theaters. Promising that Hanks will bring Rogers' exact essence to the role, director Marielle Heller spoke to Entertainment Weekly about the importance of this kind of emphatic story, saying:
It's a story for our times, a story about kindness and family connection and trying to tap into our better self... In the research for the movie, the writers found that more people than they could possibly count credited Mr. Rogers with changing their lives…. [It's about] one man who's in a critical point in his life — becoming a new father, having issues with his own father — and meeting Mr. Rogers to write a piece about him, thinking it's going to be a bit of a puff piece, but it ends up changing his entire life.
Anyone still needing a fix of Mister Rogers ASAP doesn't have to wait until You Are My Friend is released. The recent documentary Won't You Be My Neighbor celebrates the entire span of Rogers' career, and while we're dying to see Hanks' rendition of the icon, nothing beats footage of the actual TV host singing "It's You I Like." I'll definitely be playing it on a loop until the first trailer showing Hanks' work is out.
You Are My Friend is in theaters October 2019.