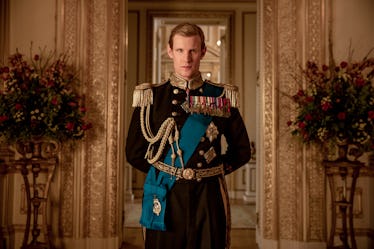 'The Crown' Season 3 Finally Released The First Photo Of Prince Philip
Netflix
After a thriving first half of 2018 for the royal family, any fans of the monarchy haven't had much to entertain themselves with lately. Royal weddings and the birth of a baby prince have come and gone, and now I'm just waiting for the third season of The Crown to delve into another juicy chapter of the royals' past. Photos of new cast members filling in existing roles were released earlier this summer, and we now have another image to add to the collection. The first photo of Prince Philip in The Crown Season 3 is here, and fans of original actor Matt Smith will be proud.
Following reports that Paul Bettany would replace Emmy nominee Smith as Queen Elizabeth II's husband for Seasons 3 and 4, The Crown's original casting plans fell through. Outlander star Tobias Menzies was then announced as the new Prince Philip and is expected to play the character from Season 3's mid-1960s through at least the early 1980s in Season 4. He joins new co-stars Olivia Colman as the Queen, Helena Bonham Carter as Princess Margaret, and Ben Daniels as Antony Armstrong-Jones.
In the photo of Menzies in character that The Crown's Twitter account released, he appears in an outfit similar to what Philip would wear in the first two seasons. He bears the same precisely parted blonde hair that Smith wore for the role, but his face is considerably older and more worn than his predecessor, as was the intention behind casting new actors as the show's timeline progresses.
Like with the dramatically posed photos of Colman, Bonham Carter, and Daniels, the picture of Menzies comes with a one-word caption, saying, "Ambition." As fans saw in The Crown's second season, Philip particularly struggled with living in Elizabeth's shadow and longed for opportunities outside of her influence. Although the third season is expected to focus less on Philip and Elizabeth and instead introduce their two oldest children Charles and Anne as primary characters, ambition will clearly always be a major part of who Philip is.
When his involvement in the series went public, Menzies said in a statement, "I'm thrilled to be joining the new cast of The Crown and to be working with Olivia Colman again. I look forward to becoming her 'liege man of life and limb.'" Recently, Smith also stamped the casting with his approval, speaking to Gold Derby about handing over the role and saying:
I think it's a brilliant bit of casting... I know Tobias quite well. And also, I've [passed on a role] with Doctor Who where you hand over a part and I'm sort of fine with that. That's just not a problem for me. I'm just excited and I watch it as a fan. I'm intrigued to see what happens.
According to Variety, the show's third season is expected to cover events from 1964 to 1976, a range that includes Princess Anne's 1973 wedding and the U.K.'s "Wilson era." The term references the two different tenures of Prime Minister Harold Wilson throughout the '60s and '70s, which is sure to annoy Elizabeth, who ranted in Season 2 about her prime ministers never living up to their potential. Meanwhile, while she deals with Wilson, Philip probably sulks in a corner somewhere about walking behind the Queen at a royal function. Some things never change — Menzies better get used to plenty of Philip haters scorning him in the near future.
Season 3 of The Crown is expected to premiere in 2019 on Netflix.