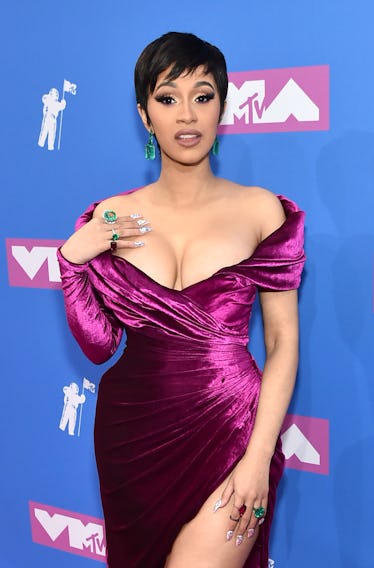 Cardi B Shared The First Photo Of Her Baby & It's Not What You Expect
Mike Coppola/Getty Images Entertainment/Getty Images
Rapper Cardi B welcomed her baby girl just seven weeks ago and the little one is already looking super cute! Well, from what I can tell anyway. Cardi shared a photo of her baby on Instagram and fans are flocking to see what she looks like. Unfortunately, the first photo of Cardi B's baby doesn't actually show her face, but it's cute nonetheless!
Cardi and her husband Offset welcomed the baby girl, who they have christened Kulture Kiari, on July 11. And the first photo of her is genuinely adorable. Fans are already commenting about how sweet the photo is!
Even though you can't see Kulture's face, you can see how much love Cardi has for the little one!
In the photo, Kulture's little hands are clearly visible and Cardi's finger propping one hand up.
"I needed a girl like you.🎀KK," Cardi captioned the photo.
While the comments on the photo are a mixed bag, there's one thing fans can at least agree on: Kulture is a blessing and Cardi is lucky to have her. And that's something she clearly appreciates, which is really sweet!
As for the little one, here's the photo Cardi shared of Kulture:
Adorable, isn't it? Cardi certainly thinks so! And lots of fans do, too!
Even though Cardi is not quite ready to show Kulture off to the world, she's at least giving fans a glimpse into her life as a mom. And that's definitely something they can appreciate. It's obvious from her social media posts that Cardi just loves being a new mom. So sweet!
Before welcoming baby Kulture, Cardi B and Offset dated for over a year. They made their relationship red carpet official in May 2017 at the Met Gala. Then, in October 2017, the couple got engaged on-stage, before TMZ reported the pair had actually gotten married the month prior. Offset reportedly gave Cardi an engagement ring that was work $550,000. She showed the ring off at the 2018 Grammys. During a performance on Saturday Night Live in April, Cardi revealed for the first time that she was pregnant.
Overall, the pregnancy seemed relatively smooth for Cardi, save for her appearance at the 2018 Met Gala where she wore a 35-pound dress in addition to sporting a huge baby bump. At the time, Cardi gave some insight into being pregnant in a red carpet interview with ET. When ET asked how the baby was doing, Cardi joked about her discomfort with the weight of the dress:
Oh, she wants to fight me! My dress weighs about 35 pounds plus baby. It's OK though, I used to go up the project stairs.
Aw, you gotta love Cardi's sense of humor about it!
In a New York Times interview around the same time, Cardi explained how the pregnancy was going:
Shorty weighs three and a half pounds. She do! She do weigh three and a half pounds. That's pretty good for seven months, right? Because I was born five pounds.
Well, judging by how much Cardi gushes about her, it seems that Kulture was born perfectly healthy. I bet Cardi and Offset couldn't be happier.