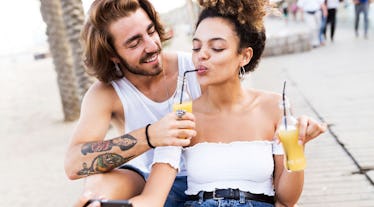 Here's The First Impression You Leave On A First Date, Based On Your Zodiac Sign, & Wow
I've always thought it would be interesting to be on reality TV — not because I want to be famous, but because it would be fascinating to actually see what kind of impression I make on others, especially when I'm on a date. Am I coming off they way I intend? Or am I unintentionally making a bad impression? I would never actually go on reality TV, but the hypothetical does have some appeal. In some ways, learning about your zodiac sign is similar, because it tells you about yourself, including the first impression you leave on a first date, just by taking a closer look at the characteristics of your sign.
For example, do you come off as fun and engaged, or aloof and uninterested? Who does your date end up thinking you are by the end of the night? While ultimately the most important part about a first date is to decide how you feel about the other person, it doesn't hurt to put your best foot forward and present yourself as you truly are, just in case you end up really digging them, right? So, here's how you likely appear on a first date, according to your zodiac sign.