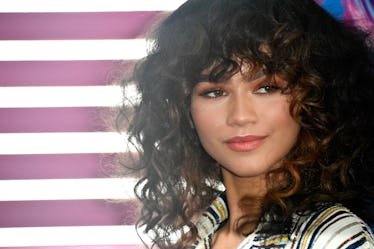 Zendaya Just Shared A First Look At Her New HBO Show 'Euphoria' & It Looks So, So Good
Frazer Harrison/Getty Images Entertainment/Getty Images
Zendaya is about to embark on a new professional adventure. And fans are just now getting their very first glimpse of it. The first clip of Zendaya's show Euphoria was posted to the actress' Instagram on Monday, July 30, and everyone is already going wild over it.
Although the clip is incredibly short, you can already get a sense of what Zendaya's character is all about. For those of you who haven't heard, Euphoria is a new HBO drama centered around high school students as they grapple with things like trauma, love, friendship, drugs, sex, social media, and identity. Zendaya is set to play the lead, Rue, a drug-addicted 17-year-old who's struggling to figure life out.
And that is exactly the vibe that the first clip of Euphoria gives off. In the clip, Zendaya's character Rue sits in a seemingly euphoric state. She stares at the camera head-on as the lights around her flicker in and out. At first glance, it seems like a truly haunting glimpse into life as a 17-year-old addict. No doubt this show will be on every TV fanatic's must-watch list.
While the show hasn't aired yet, it's already attracting big names in the entertainment industry. Drake and Future the Prince are onboard as executive producers, while Maude Apatow (Girls), Brian "Astro" Bradley (Red Band Society), Eric Dane (The Last Ship), and Sydney Sweeney (The Handmaid's Tale) have signed on to fill out the cast.
So, this show is definitely something to look forward to, for sure! By the way, it was just announced on Monday, July 30, that Euphoria was picked up to series.
Here's a look at Zendaya as Rue:
Euphoria will mark Drake's second foray into producing for film and television. The first was for a documentary called The Carter Effect, which gave audiences an intimate look into the life and career of NBA star Vince Carter.
While Drake is hyper-focused on music most of the time, he told The Hollywood Reporter in November 2017 that he wanted to branch out and do more with film and television:
I'm sure I'll stop [making music] one day. When it starts to feel like I'm making it up. Hopefully I'll catch it before I ever get there, right? But right now it feels like we just started, so I don't plan on stopping anytime soon. But I do plan on expanding — to take six months or a year to myself and do some great films.
And he's definitely doing that!
In the same interview, Drake talked about his taste in film and television (he loves the Netflix series Ozark) and it sounds like Euphoria definitely fits the bill:
My taste in television or movies is always kind of similar to my approach to music, which is, I like when people really hit the nail on the head with real human emotions. So with Ozark, it's just the family dynamic. The arguments. The love. The struggles. I really relate to how accurate it is.
It sounds like Drake is making his dreams come true one by one, if Euphoria is anything to go by. Besides that, Zendaya is going to make an incredible Rue. That short clip of her says it all!