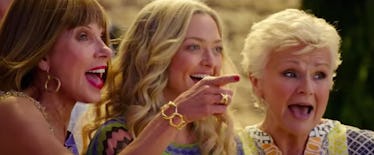 The Final 'Mamma Mia! Here We Go Again' Trailer Will Make Fans Dance In Their Seats
Universal Pictures
Need a little pep in your step on a humdrum Tuesday? There's a final Mamma Mia Here We Go Again trailer for that. The latest clip promoting the sequel to 2008's hit ABBA musical extravaganza has arrived and it's taking us all the way back to 1979, where Donna Carmichael's (Meryl Streep's character) journey began. As to be expected from a movie inspired by the songs of a '70s Swedish singing group, there's music, dancing, feel-good family moments and... OMG, it's CHER.
Yup, the Goddess of Pop herself plays now-pregnant Sophie's (Amanda Seyfried) grandmother in the upcoming film. Cher's rocking a blonde wig and an attitude here, and it appears she's not welcome at the party in Kalokairi, Greece. Sophie explains to her grandma "you weren't invited" in the clip, but as we should all by now, nobody tells Cher what to do. "That's the best kind of party, little girl," she quips. Oh, snap. This is gonna be good. Cue the music!
"Get ready to have the time of your life," the promo reads — a reference to the ABBA favorite "Dancing Queen." There's also a look at Lily James in the role of young Donna (Meryl Streep) as she embarks on her Grecian adventures. Honestly, Mamma Mia! Here We Go Again looks like a ridiculously good time and I already feel like I'm about to be transported to the Mediterranean Sea for a mini cinematic vacay.
If you're a fan of the first film, which is based on the beloved musical of the same name, you should be relieved to know that much of the original cast is returning for this second round. The star-studded roster includes Seyfried, Christine Baranski, Julie Walters, Pierce Brosnan, Colin Firth, Stellan Skarsgard, Dominic Cooper, and the great Meryl Streep, who will all be reprising their roles.
New addition Lily James will portray 1979 Donna, as Jessica Keenan Wynn plays young Tanya (Baranski's character) while Alexa Davies is young Rosie (Julie Walters).
Amanda Seyfried weighed in on the follow-up 10 years in the making to EW in December, assuring fans that it even exceeded her own expectations. "I actually had a better time than I did shooting the first movie. Everybody's back together and it's been 10 years. There's so much love and so much family that it's infused 100 times in this movie. It was so unexpected for me," the actress explained. Hmm. Maybe that's because Cher was there this time? Just sayin'.
Mamma Mia! was a major box office smash back in 2008, so a sequel seems like a natural move. Seyfried added that the concept of bringing Donna's past to life for the second movie just makes the story that much deeper. "The movie's better than the original because there's a depth to it that only comes from time," she explained.
And although there's been some speculation about Meryl's involvement in the sequel, Seyfried recently cleared up her on-screen mom's role. "You do see her. She's, Meryl is very much a part of this movie," Amanda clarified to Entertainment Tonight in March. "No, there are absolutely no flashbacks. No, because all the 'flashbacks' are of Lily [James] playing Donna. So it's a prequel and a sequel, and so you see Meryl is very much a part of it."
Meryl's been busy getting Oscar nominations for The Post and joining the cast of Big Little Lies, but it's good to know she had time to slip on her dancing overalls for more ABBA-tastic fun.
Mamma Mia! Here We Go Again boogies its way into theaters on July 20, so get ready to have the catchy hits of the '70s in your head until winter.