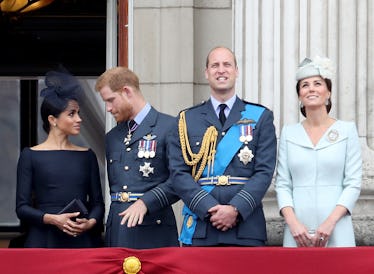 The Palace Staff's Favorite Royal Isn't Even Close To Who You Thought It Would Be
Chris Jackson/Getty Images Entertainment/Getty Images
It makes sense the palace staff has a favorite royal they work with. I just never in a million years thought they'd reveal who! One source, in particular, suggests there's definitely a fan favorite amongst the historic walls, and while you might think it's one of the fab four (aka, the Duke and Duchess of Sussex, Prince Harry and Meghan Markle and the Duke and Duchess of Cambridge, Prince William and Kate Middleton) you'd be incorrect. No, it's not Princess Charlotte either, though she's my favorite. Obviously. And, no, it's not even the Queen, either. Are you ready for this? Drumroll, please...
Buckingham Palace staff's favorite royal is apparently Prince Phillip, Duke of Edinburgh. The 97-year-old husband to Queen Elizabeth has won over the hearts of his staff and subjects and apparently is just a delight to be around. Based on this guy's happy face and overall demeanor, that checks out. Who do you think within the palace walls is brave enough to spill the beans, though? The answer is: no one. This report comes straight from The Crown actor Matt Smith, who not-so-coincidentally plays Prince Phillip in the show — albeit, a much younger Prince Phillip.
Smith told Variety how amicable Prince Phillip is in real life and how much the palace staff seems to enjoy his company. Smith said, "In the royal house, he's the most popular of all of them. If you've talked to any of the staff, Philip's the one they all love really... I think more than a lot of them, he's a bit more of a man of the people."
Based on Smith's perception, Phillip has managed to keep a healthy balance between royal protocol and marching to the beat of his own drum. "The royal protocol hasn't dogged him in quite the same way his whole life," Smith said. "There's a sort of rebellion in him and a naughtiness and a cheekiness. I think he's quite affable and open by all accounts with the staff. They all love him."
If you're not up to speed with Netflix's hit series, The Crown documents Queen Elizabeth II's life beginning from the time her father, King George IV, became terminally ill leaving her heir to the throne. The series opens with Smith's character marrying Elizabeth. According to Smith, he thinks some of the royal family member's have caught the show in real life, though Prince Phillip recently exclaimed he has never seen it. Smith said,
What happened was apparently there was a dinner [party] and a friend of mine asked him if he'd watched The Crown, and he turned around and said, 'Don't be ridiculous.' Which I thought was very good. But apparently, the Queen has, we are told, but we don't know. We'll never know. But I think I'm pretty sure some of them have.
Something tells me if Prince Phillip knows he's the most beloved royal, he would never let on. When you've lived a life like this man has, "cool-factor" just becomes part of your DNA.
Long live the Queen, as per usual, and Prince Phillip, too.