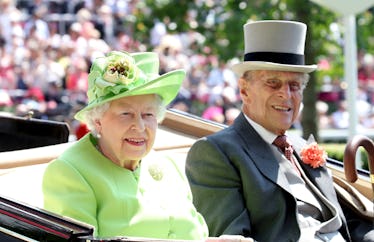 6 Facts About Queen Elizabeth & Prince Philip's 71-Year Marriage That Might Surprise You
Chris Jackson/Getty Images Entertainment/Getty Images
To look at Queen Elizabeth and Prince Philip together now, after an incredible 71 years of marriage, you would never guess what a dramatic and tumultuous relationship they've had over the years. Unless, of course you watched The Crown and were totally shook. But for those who aren't familiar with all of the ups and downs of Queen Elizabeth and Prince Philip's relationship, the couple first met when Elizabeth was just eight years old at a family wedding. The two reunited again five years later in 1939 when they were both teenagers, and that was when the romance began.
Elizabeth fell in love quickly and the two began exchanging letters. In 1946, Philip officially asked Elizabeth's father, King George VI, for his daughter's hand in marriage and the King granted it — with reservations, that they wait until she turned 21 and that he relinquish his Greek and Danish royal titles and become a British citizen. Philip agreed, and the two were married the following year.
But things got complicated after they were married, especially when, at the age of 25, Elizabeth became Queen of England — news that Philip delivered himself while the two were away in Kenya . This meant that Philip had to take a back seat to his wife, something he reportedly found very difficult. There was friction, fights, and alleged affairs, but incredibly, these two were determined to make their marriage work, and seven decades (and counting) later, they have succeeded.
But even knowing all that barely scrapes the surface. There are still all kinds of fascinating facts about these two that shed some surprising light on this couple, and their entire family.