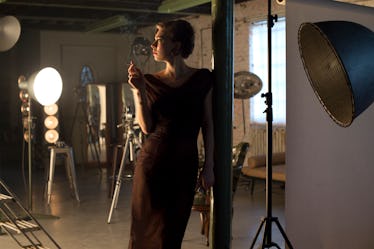 The 'Fast & Furious' Spinoff Just Added Vanessa Kirby & She'll Be A Far Way From Windsor
Netflix
The Crown Season 3 will begin filming this month, after a long process of replacing all the major roles, including Claire Foy, Matt Smith, and Vanessa Kirby. But fans shouldn't worry about The Crown's younger generation set not moving on with their careers. Foy has several projects coming out this year. Matt Smith has been set for life since he played the eleventh Doctor in Doctor Who. Now Kirby too has managed to land herself a major franchise for her next move, as it was announced today the Fast & Furious spinoff just added Vanessa Kirby to the cast roster opposite Dwayne Johnson.
The Fast & Furious franchise has been prepping for a Johnson-led spinoff since bringing him aboard in Fast Five in 2011. The name of the spinoff is Hobbs and Shaw, named for the characters played by Johnson and franchise staple Jason Statham. In it, Johnson's US Diplomatic Security Agent Luke Hobbs will team up with Statham's Deckard Shaw, which, fans of the franchise will know, is an Odd Couple type team up with lots of comic potential as well as interpersonal conflict.
According to reports, once negotiations are finalized, Kirby will enter the franchise playing Statham's sister, who is also, coincidentally an MI-5 agent. Bad-assery runs in the family, I guess.
According to Variety, which broke the news:
With her reign as Princess Margaret on Netflix's acclaimed series 'The Crown' officially over, Vanessa Kirby is taking her talents to the big screen. The British actress is in final negotiations to star opposite Dwayne Johnson and Jason Statham in 'Fast and Furious' spinoff, 'Hobbs and Shaw.' 'Deadpool 2' director David Leitch is on board to helm with Johnson and Statham reprising their roles of special agent Luke Hobbs and criminal mastermind Deckard Shaw, respectively. Kirby will play an MI-5 agent and Shaw's sister.
Unfortunately, this is about as much as fans know at this time about the film's plot. But Collider has some insight into what Kirby's character could mean for the franchise's new slate of films.
As Kirby is playing the sister of Statham's Deckard Shaw, that means she's also the sister of Luke Evans' Owen Shaw, who was the principal baddie in Fast & Furious 6 and reprised his role in Furious 7. This signals that Hobbs and Shaw will aim to deepen the mythology of the franchise, which makes sense as Fast & Furious architect Chris Morgan wrote the screenplay.
As for the main franchise arm, the eighth installment The Fate of the Furious, came out last year. There won't be another until 2020, when the ninth installment arrives in theaters, followed by the tenth and last film in 2021. In between, this first Hobbs and Shaw film will film the gap, arriving in the summer of 2019.
But the film won't be a straight knock-off. According to director David Leitch speaking to CinemaBlend, the films have progressed so much they have options.
We really do want to set off on our own specific journey with these characters. If you look at the worlds that they come from in the franchise, they're not from the street racing world. The first movies in Fast, it was all about street racing, and then it became sort of a heist franchise, and then it became a spy franchise. I think Jason's character is definitely from the spy world, and Dwayne's character is more of an agent, right? Working with the government. We're going to lean more into their worlds. But I think we still want the same sort of level of spectacle and fun that the Fast [movies] have.
Hobbs and Shaw is currently set to hit theaters next year, on July 26, 2019.