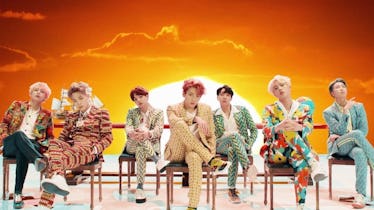 The Timeline Of BTS' Music Videos Will Fill You With ARMY Nostalgia
Summing up the extraordinary and complex evolution of BTS' music videos is almost an impossible task. How does one boil down six years of visual perfection into one simple listicle? Frankly, this sounds like a job for ARMYPEDIA.net, but I'll try. ARMYs have loved watching J-Hope, Jimin, Jin, Jungkook, RM, V, and Suga grow before their eyes with the love of a thousand-million finger hearts. Fans have seen them explore so many different concepts and storylines as they evolved into the music video icons they are today.
From the beginning, BTS has strived to give their fans nothing short of perfection. This has resonated in each and every music video from their debut link "No More Dream" in 2013 to their most recent masterpiece. Through it all, fans have been treated to iconic choreography, compelling storylines, kick-ass costumes, an onslaught of hair colors and styles, group shots, stunning closeups, and breathtaking special effects.
There are few things I love more than a good coming of age tale. The fact that this particular one happens to be about BTS is just icing on an already delicious cake.
Sadly, I'll only get to delve into the original release of music videos for official BTS group albums (because if I included every version of every music video, all the boys' solo ventures, and every FESTA gift in existence, you'd be reading all night — well, if your device doesn't crash first). So, without further ado, I'll dive in!