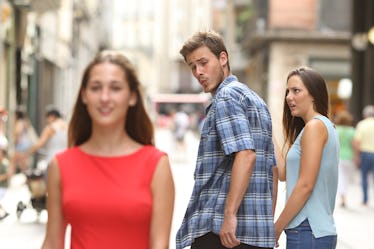 Someone Created An Entire Story Around The Distracted Boyfriend Meme & It's Everything
Every once in a while, a new meme seems to take the internet by storm. For a while, we were blessed with Obama-Biden memes. Then, we had Kermit the Frog memes galore. Ooh, then, there were the million of memes of Trump making some sort of weird face. And how could I forget Kim Kardashian's crying face memes? And for a while now, of course, we've had the distracted boyfriend meme, in which a dude checks out another girl while holding his girlfriend's hand. Now, one Twitter user has blessed us with the distracted boyfriend meme's back story... and it's magnificent.
It all started when Twitter user Andrew Abernathy (@ajabernathy) came across the now-widespread meme image when he was searching for stock photos. He obviously came across the image we all know and love, but he realized that the photographer took pages and pages of other pictures of the same couple going through all sorts of emotional roller coasters. So, just as any of us in our right minds would do, Abernathy decided to create a backstory for the couple. And then, he did us all a great service by sharing the story with us on Twitter.
Buckle up, people. This is about to be a wild ride.
It all started when he found the photo while at work.
He then began crafting the story of her life, starting with her catching up on some homework.
He tweeted, "After being blatantly disrespected by her bf on the streets, it looks like she is also having trouble with homework."
Then, she dropped her homework and went back to him like nothing happened!
"Looks like she didn't learn her lesson and they're buying something expensive together," he wrote.
OH, GOD, NOW SHE'S PREGNANT WITH HIS CHILD.
Look at them, just pretending to be one big, happy family.
Abernathy didn't hold back on distracted boyfriend, tweeting, "That man is a deadbeat and you knew it! Now look what happened."
Obviously, distracted boyfriend disappeared again.
And clearly, that really lavish thing they bought is definitely going to have to be returned.
Now, she's left at home alone with her baby.
"Things aren't looking up for her right now," Abernathy wrote.
In the least surprising twist ever, she's finding shady texts on distracted boyfriend's phone!
Abernathy went in on the girlfriend: "Why are you surprised?!?! The man showed you what he was!"
...OH, AND SHE ALSO FOUND SOME OTHER GIRL'S PANTIES?!
Of course, this freaking guy would think it's fine to kiss another chick while he's hugging his bae.
Abernathy's painfully true caption read, "TBH, this is pretty egregious."
Just like clockwork, distracted boyfriend came crawling back.
But she wants him back, now!?!?
Things aren't looking up for this couple, because now, she just caught him in bed with another chick. The nerve.
Abernathy tweeted, "Girl. After this? Zero excuses!"
But wait... they're moving in together?!
"UH OH that expensive thing they bought was a house! I was afraid of that!" Abernathy tweeted.
Yikes, looks like distracted boyfriend got some pretty bad news!
Abernathy tweeted what we are all thinking: "I HOPE THAT'S IMPENDING LEGAL ACTION BRUH."
Aaaaand she's officially hit rock bottom.
Now, she's... embracing her rage, I guess.
She even smashed their framed photo together.
Abernathy pointed out, "This is REALLY detailed for a stock photo..."
In the end, Abernathy, unfortunately, had to get back to work, so he left us with one last piece of the story.
His caption reads:
I could spend the rest of the day on this because I've only gotten through 14 of the 44 pages these two have together. There might be an 'attempted murder' photo by page 30! I'll leave on this one.
GIRL YOU KNEW WHAT HE WAS!!
He'd also like to remind us that there's a lot more where these photos came from.
OK, BRB. LOGGING ONTO SHUTTERSTOCK AND CONTINUING THE BACKSTORY FOR THIS COUPLE ON MY OWN, BECAUSE I NEED ANSWERS.
Check out the entire Gen Why series and other videos on Facebook and the Bustle app across Apple TV, Roku, and Amazon Fire TV.
Check out the "Best of Elite Daily" stream in the Bustle App for more stories just like this!