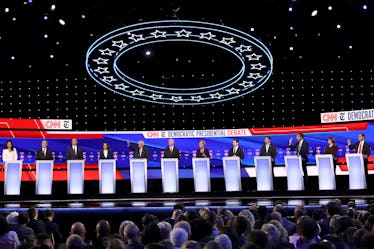 The 2020 Candidates Went Hard On Impeachment At The Democratic Debate
Win McNamee/Getty Images News/Getty Images
Well everyone, hope you poured a large glass of bubbly and got comfortable, because the Oct. 15 Democratic debate was a doozy. This debate, co-hosted by The New York Times and CNN, started off hot to say the least, and the Democratic candidates' quotes about impeachment at the Oct. 15 debate did not hold back. I smell drama.
Moderator and CNN correspondent Anderson Cooper started off the Tuesday, Oct. 15 debate by asking the candidates where they stand on the impeachment inquiry against President Donald Trump, which was announced on Sept. 24. The White House has characterized it as Democrats' attempt to "weaponize politics" in a statement to Elite Daily. In addition, President Trump has deemed the inquiry "PRESIDENTIAL HARASSMENT" in a tweet, so we know where he stands on the issue. Each candidate supports President Trump's impeachment to varying degrees, but all 12 got the chance to share exactly why they support the matter.
So, get ready everyone, because these presidential candidates did not hold back on impeachment at the debate. Then again, did we expect them to?