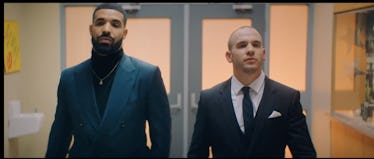 Here's What The 'Degrassi: Next Generation' Cast Looks Like Now, If You Were Wondering
YouTube/Drake
ICYMI, the cast of Degrassi reunited in Drake's high school reunion-themed music video for "I'm Upset," and the internet completely lost it. Not only is it incredible to see all of these characters on-screen together again, but the actors who played them all look so freaking amazing that I can't stop crying. Seriously, you guys, the Degrassi: Next Generation cast then vs. now proves the glow-ups are so, so real. How can I get in on some of this magic?
Nina Dobrev is there. And so is Stacey Farber, Jake Epstein, A.J. Saudin, Adam Ruggiero, Lauren Collins, Christina Schmidt, Andrea Lewis, and SO MANY MORE! The first former cast member to make an appearance is Shane Kippel. And let me just get this out of the way right up-front — Spinner is bald. I repeat, Spinner is bald. And he is working that shiny head like a BOSS.
Check out what he looks like now, along with these eight other cast members:
Shane Kippel
The video starts out with Drake (playing his Degrassi character, Jimmy Brooks) getting ready for his high school reunion. This includes a trip to the tailor, where the reformed bully comes out of a dressing room in a black suit that's been fitted to his bod within an inch of his life and I am SO here for it.
Lauren Collins
Spinner sits shotgun as the two of them roll up to the reunion in Jimmy's 'rarri, where the first person they run into is Lauren Collins. She played Spirit Squad founder Paige Michalchuk, in case you forgot.
She's still as gorgeous as ever.
Adam Ruggiero
Next, we see that Paige has arrived with her old bestie (and current pizza-eating buddy) Marco Del Rossi, the openly gay character played by Ruggiero, who's now an LGBTQ public speaker and activist.
Stacey Farber
Ellie Nash, played by Farber, is also in tow, and she's traded in her goth vibe for a more natural style.
She's still a redhead.
Jake Epstein
Craig Manning rolls up next (minus the skateboard) and he is giving off major Mark Ruffalo vibes. I mean, look at that jawline!
He plays Chuck on Designated Survivor now.
A.J. Saudin
And speaking of jawlines... we need to talk about former geek Connor DeLaurier played by A.J. Saudin, because OMG I did not recognize him AT ALL. He's 26 now, goes by the professional name "Saudin," and is pursuing a career in music.
Also, let me just say that he is super hot.
Christina Schmidt
Schmidt, aka Terri MacGregor, is beyond stunning, and her career as a plus-size model is thriving! She wrote a whole blog post about how cool it was to film the video and catch up with her old crew.
And yes, there are pics!
Andrea Lewis
Terri was joined by Hazel Aden. So, did Jimmy order her up a limo for the night? If he did, here's hoping it went better than it did the night of the Bollywood dance!
P.S. I'm loving those long, sleek waves!
Melissa McIntyre
And finally, there's Ashley Kerwin, played by McIntyre, the girl known for changing up her style while she was busy trying to figure out who she was. I am loving seeing her back with her natural hair color! McIntyre has retired from acting and now owns a restaurant in Toronto.
But look how happy she seems back in the Degrassi gym!
Now that I've got you feeling all nostalgic, here's the Drake music video for "I'm Upset."
Sadly, you can't find full eps of Degrassi: The Next Generation on Netflix or Hulu, but they are available on YouTube.