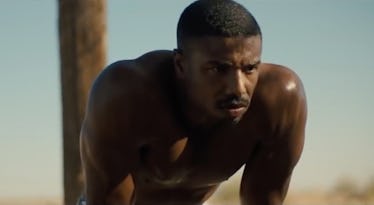 The 'Creed 2' Trailer Is Everything Michael B. Jordan Fans Have Been Waiting For
Warner Bros.
"If we don't do what we love, then we wouldn't exist." These wise words come from Michael B. Jordan's Adonis Creed in the heart-pounding new Creed 2 trailer. The next installment in the boxer's journey is upon us and this time, he's prepping for what might just be the fight of his life. Creed 2 will follow Adonis as he takes on rival Viktor Drago (Florian Munteanu), the son of Dolph Lundgren's Ivan Drago, who killed his father Apollo in Rocky IV. Creed feels he "has no choice," although everyone around him doesn't seem very thrilled about the risky challenge.
"He broke things that ain't never been fixed. It's not worth it," his coach Rocky Balboa (Sylvester Stallone) advises. But it appears Adonis isn't listening to anyone when it comes to this matchup, no matter what the stakes are.
"It's not just us anymore," his girlfriend Bianca (Tessa Thompson) even pleads. The couple have a baby now.
Adonis' adoptive mom Mary Anne, played by Phylicia Rashad, also questions his intentions. "If you want to fight this man that's your business, but don't pretend this is about your father," she sternly remarks.
The trailer doesn't only showcase Adonis' determination and warnings from the important people in his life. There are insense shots of his grueling training, emotional moments between him and his family, and glimpses at his adversary Viktor Drago as the boxers prepare to throw down in the ring.
"Round after round you learn more about yourself," Adonis tells Bianca through tears. "And when I stepped in the ring, it wasn't all about me."
Creed 2 is expected to hit theaters on Nov. 21. The sequel comes three years following Creed 's release in the fall of 2015. Creed was both a critical commercial success — the film earned Sly Stallone and Oscar nod and a Golden Globe win for Best Supporting Actor. Ryan Coogler (Black Panther) directed, but passed the torch to The Land's Steven Caple Jr. for round two.
So, what does Michael B. Jordan think about his dangerous and meaningful new opponant Viktor Drago? According to the star, his character and the villain have more common ground than you may think. Creed 2 goes beyond the confines of a revenge drama when it comes to its messages. Jordan explained to The Toronto Sun:
Victor's storyline is very layered. The two guys are similar in a lot of ways… Adonis feels, naturally, a certain animosity towards Viktor and Ivan, and then there are other themes in there: the maturity of growth, the importance of family, of legacy, is what makes Creed so special. It's not just about revenge. It's about a lot of things… If we get that lesson across, then I think we've made a pretty special movie.
"Really, it's about life," Jordan also noted.
In the tradition of the Rocky franchise and the films' appeal, it sounds like you don't have to be a boxing fan to appreciate Creed's journey.
Creed 2 hits theaters on Nov. 21.