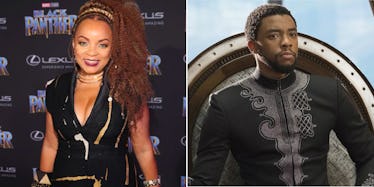 The Costume Designer For 'Black Panther' Revealed A Hidden Detail You Missed
Jesse Grant/Getty Images/MARVEL
Do your friends tell you you're "celeb obsessed"? Do you follow your favorite celebs' every move? Know their Instagram histories so well that you can rattle off their inner circle by name and IG handle? If yes, Elite Daily's new series, SideClique, is just for you. We're bringing you everything you've ever wanted to know about the people living their lives right alongside our favorite celebs.
While you may not know her by name, you'll certainly know costume designer Ruth E. Carter by her work. From the three decades' worth of projects she's collaborated on — we're talking iconic films like Malcom X, Selma, and Black Panther — it's obvious that Carter's resume is far from ordinary. Working on such culturally significant films certainly has its advantages, too, like the fact that Carter learns a ton of behind-the-scenes information that audiences aren't always privy to. And the hidden Black Panther costume detail Carter fills me in on during our chat has me watching the movie on repeat to catch all the subtle details I definitely missed the first time around.
Carter, who has been nominated for two Academy Awards and an Emmy, says that working with the cast of Black Panther was an incredible experience — particularly working with actors Chadwick Boseman, Michael B. Jordan, and Lupita Nyong'o. "I always kind of sensed that they were very serious about their work," she says about the three cast members. But what she didn't realize was that, as serious as they were about the film, they were equally willing to have a good time. "When we all got together, they turned out to be a whole lot of fun. But they respected the artistry and were also collaborators."
For Carter, collaborating with Nyong'o was a highlight. Carter notes that the two were brought even closer by creating Nyong'o's character's wardrobe.
"We went through so many different looks," Carter reveals about Nyong'o's character, Nakia. "She was a spy, and every time she appeared on camera, she was something different. She started out as a Nigerian captive, she ended up a fighter ... and so all of those looks were designed and were all very different. And, we had a very strict parameter to work in, and that was that she always had to be wearing green."
Hold up — did Carter just tell me that Nakia wore green throughout the entirety of the film?
Yup.
As a Black Panther fan, I'm pretty surprised I didn't realize this hidden clue sooner. When I ask Carter the reason behind the color choice, she reveals that it was because of the color-coded tribes in Wakanda.
"All of the tribes of Wakanda had a very specific color palette that was put together by [director] Ryan Coogler. [Nakia] was from the River Tribe, so her palette was green. The River Tribe elder [actor Isaach de Bankolé] wore green in every scene," she explains.
Carter shares that even she didn't pick up on the color coordination initially. "Because we were daring with our color palette, it kind affected you in all kinds of ways, and you didn't really know why until you went back to dissect it. I didn't even realize it for a while, until someone told me that they didn't realize it. So I was like, 'Oh, well there's a bit of information I could share with people!'"
But working with only one color was a challenge — one that Carter and Nyong'o worked through together.
"We had to come up with a green story — not only her character story, but a color story, because we didn't want to stay in the exact same color story each time. We had to reinvent it," Carter tells me.
The level of dedication that you give to a film is quite intense and it's quite a commitment. It's dawn to dusk and into the night.
Because of how closely Carter worked with the Black Panther cast, I ask whether there were any candid moments in particular that stood out to her while working on set. She then recounts a funny story about actor Chadwick Boseman, who many know as the now-iconic Black Panther:
"The first time I put Chadwick Boseman in the panther suit that I didn't work on — which was from Captain America: Civil War — I found it majestic," she says. She continues, saying, "I was in awe of him with the suit and his helmet on ... and it was incredible to see this awesome Black Panther right in my office! But then he stopped and said, 'Yeah, there's some problems with the suit, you know. I really want to be able to lift my arm a little higher, and I can't necessarily breathe out of my nose in this helmet,' and then, you know, all of a sudden the Black Panther had his hands on his hips, telling me his problems and I was like, 'Wow, this is like an Oprah moment!'"
Can you imagine having Boseman, dressed in full Black Panther garb, venting to you about his troubles? While it seems almost unbelievable, it's all in a day's work for Carter.
I became a costume designer because I loved theater and storytelling. I looked at the people around me in my neighborhood and felt I could actually recreate them in some kind of creative way for the theater.
When Carter's not working on designing costumes for noteworthy celebs, she's still creating art through the same medium. Recently, Carter teamed up with SpikedSeltzer to create an over-the-top mermaid costume worth a whopping $25K that one lucky winner received just in time for Halloween.
So, how does the creative process even work to design something so extravagant?
"When SpikedSeltzer asked me to create the mermaid, we came up with three different designs based on their different flavors," Carter says. "I had so many research pictures — from real fish to seeing the beauty of the deep blue sea — and combined that with the exciting colors that make up the different flavors and the product design."
While Carter's job sounds beyond fun, it also, quite frankly, sounds pretty exhausting.
"The level of dedication that you give to a film is quite intense, and it's quite a commitment," Carter says. "It's dawn to dusk and into the night."
Carter reveals that by the time most films are wrapping up, she's allowed some semblance of a break, but on Black Panther, the scenes with Shuri (actress Letitia Wright's character) were shot in the last few weeks, so she had to be on top of things right until the very end. "There was a lot of research and development on her costumes, and a lot of fittings with her, but I think we came up with some beautiful pieces. I'm shocked because I was probably exhausted!"
Carter might have been exhausted when creating Shuri's looks, but it certainly doesn't show that way on film:
Despite the intense work that her job entails, Carter emphasizes just how much she loves what she does. "I became a costume designer because I loved theater and storytelling. I looked at the people around me in my neighborhood and felt I could actually recreate them in some kind of creative way for the theater," Carter tells me, noting that initially she wanted to become an actress, but after a school professor asked her to create the costumes for a play, she realized her true calling.
While it sounds pretty glamorous to be around celebrities filming — which, Carter reassures me, it is — there are still some things that you miss out on when you're so involved and passionate about your work, saying that it's an "intense commitment."
"The time goes by really fast," she says. "You look up one day and years have past. You've missed birthdays and family gatherings, and you have to do a lot of makeup time ... So, I think sometimes it's a blessing, but also it could be difficult."
Despite the extreme dedication to her job, Carter says that it's an honor to be able to create art that conveys an important message to those who see her designs. When I ask her what her vision was for the people of Wakanda, she says, "I wanted to convey that we have a vast resource of untapped artistry, and that there are misconceptions in Africa ... I wanted people to take away so much positive energy and positive beauty and a way of contextualizing that vision. To see people, maybe in their everyday life, and say, 'This is somebody that looks Wakandan to me, or, that looks Wakandan.' I feel like that would be the highest compliment that you could pay someone, and maybe that will change the paradigm for the way that so many things are misconceived."
Giving films dramatic and gorgeous cultural inspiration while simultaneously slamming misconceptions about traditional beauty? It looks to me like Carter is doing a pretty damn good job of exactly that.