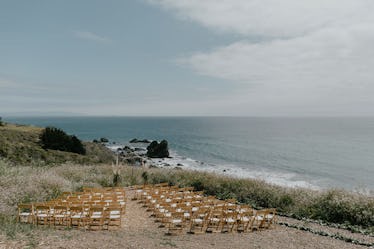 The Cost Of A Destination Wedding Depends On These 4 Factors
There are just about a million decisions you have to make while planning a wedding. Do you want it to be big or small? Inside or outside? Close by, or far away? Wedding planning is a time to explore your options and learn what you really want, but if you and your partner decide a destination wedding is for you, there are even more details to consider, starting with the cost. It turns out, the cost of a destination wedding can definitely depend on a lot of things, all of which are worth factoring in when planning your big day.
A destination wedding can feel like the ultimate fantasy for some. Getting married at a gorgeous beach in the Caribbean, or at a castle in Ireland is seriously idyllic, but unfortunately, not always feasible depending on the couple's budget. Most couples find "destination weddings to be a great way to escape the day-to-day and really spend quality time with guests versus a quick hello in a receiving line," founder of Jacin Fitzgerald Events, Jacin Fitzgerald, tells Elite Daily. "It's nice to spend a few days with everyone and include them in welcome parties versus smaller rehearsal dinners for the wedding party only."
Destination weddings can be a great time for all, but what makes them so expensive? According to wedding planners, it's all in the details.