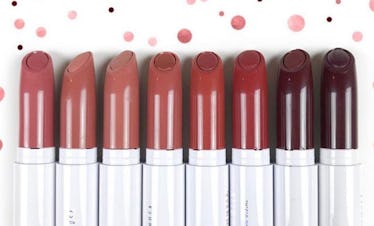 The ColourPop Black Friday 2017 Sale Is Here & I See Free Lipstick In Your Future
If you've shopped ColourPop cosmetics before, you know the brand gives you a lot of bang for your buck. With $5 shadows drenched in pigment and cheekbone-popping $8 highlighters, you really can't go wrong. But wait, it gets better. The ColourPop Black Friday 2017 Sale has already started, and the folks at the brand must be out of their strobing minds.
From buy one, get one free deals on your favorite lip products to $20 off every $100 spent, you can totally afford to buy your friend that palette she's been eyeing and still have cash left over for your liquid lipstick. But as with most good things, there's a slight catch: These deals are changing every other day, and you don't want to miss out.
The brand has already kicked off ColourPop Thanksgiving Week with a buy one, get one free deal on all their Lippie Stix ($5; colourpop.com), Blotted Lips ($5; colourpop.com) and Crystal Balms ($5; colourpop.com). If you're looking to overhaul your lip wardrobe and go absolutely vampy for the winter season, seize this sale. With nearly 60 Lippie Stix shades to choose from, you're certain to find at least one shade you will love, if not several. For those who prefer a more just-sucked-on-a popsicle stained look, then opt for the Blotted Lips line. And if the cold weather has got you feeling ice queen vibes, then nab some of their Crystal Balms, which can be worn on clean lips or over lip color for a frosty iridescent look.
According to the ColourPop Instagram, you're going to need to act fast. This first discount ends today, Nov. 22. So use the code BOGOSTIX while you still can.
If you somehow miss out on today's discount, or if you just don't like lipsticks, that's weird but don't fret. ColourPop is providing fresh discounts on Nov. 23 and Nov. 24. Get excited, because they're even better: The brand is offering buy one, get one free on all liquid lipsticks, which is sheer insanity. If you're the pro-transfer-proof type, then snag some Ultra Mattes and don't be afraid to kiss bae under the mistletoe.
Speaking of, Dr. M ($6; colourpop.com), a rich holiday green, is the unexpectedly bold lip color you didn't know you needed this party season. Your eyes aren't betraying you, it's festive AF.
If you need a little extra hydration, give the ColourPop Ultra Satins a whirl. They're still matte, but also intensely moisturizing.
For the more traditional lipstick loves, the cheery orange-red Cozy ($6; colourpop.com) will melt away any chance of snow.
If you like a softer look and feel to the lip, then you might want to give Ultra Blotted Lips a try. They tint and stain your natural lip tone without fully covering up your lips. Give into your sultry side with Cherry On Top ($6; colourpop.com).
What would a Black Friday sale article be without mentioning Cyber Monday? Incomplete, that's what. When you purchase any products on the ColourPop site on Cyber Monday, you'll get 20 percent off your entire purchase. That means you can get as many highlighters, concealers, and palettes as you'd like. Nothing is off limits.
Don't forget that ColourPop just released a palette exclusively for Sephora. The Take Me Home Eye Shadow Palette ($12; Sephora) is chock full of warm and rusty tones, just perfect for sipping hot cocoa by the fireside.
Of course, you can also grab some of your other Colourpop favorites at Sephora too, like the beautiful burgundy Super Shock Shadow ($5; Sephora) in Revolution.
You can also shop this glimmering Legit AF Super Shock Highlighter Trio ($24; Sephora), which just works out to $6 per illuminator. You may already be Legit AF, but now you'll also be Lit AF.