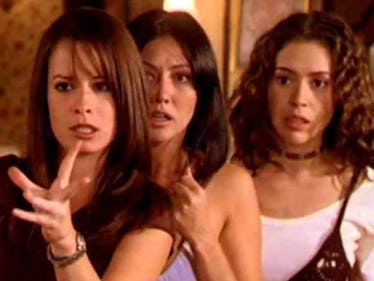 The 'Charmed' Reboot Cast Finally Has Its Three Sisters & They're Perfect
Warner Bros
Your television is about to get a little more magical, because the Charmed reboot casting process is coming together. The CW has found its three spellbinding sister leads for the upcoming series — which is born from the WB fantasy dramedy of the same name that ran from 1998-2006 — and you'll likely recognize the actresses that nabbed the coveted roles.
The updated Charmed comes from Jane the Virgin creator and showrunner Jennie Snyder Urman and the CW has called it a "fierce, funny, feminist reboot of the original series centers on three sisters in a college town who discover they are witches. Between vanquishing supernatural demons, tearing down the patriarchy, and maintaining familial bonds, a witch's work is never done."
Reports of a re-tooled Charmed started making the rounds way back in 2013. In early 2017, it was announced that the new version was slated to take place in 1976, but that concept appears to have been scrapped as the series will be set in present day. So, who will play the next generation of spellbinding siblings? Meet the new Halliwells — well, it looks like they go by the surname Pruitt now — that will be coming to a TV screen near you.
Madeleine Mantock as Macy
You might know this British-born actress from The Tomorrow People or Into the Badlands. She'll play Macy — who has been described as "a witty, intense science nerd" who is "in her late '20s." The casting breakdown, which comes via TV Line, also notes she's a "Ph.D. in quantum physics who's moving with her boyfriend Galvin to Hilltowne, Michigan, to work in the university lab. Macy has reason to believe that she is the sister of Mel and Madison. Her power is telekinesis."
Melonie Diaz as Mel Pruitt
New York City native Melonie's breakthrough role was in 2002's indie favorite Raising Victor Vargas. Since then she's starred in films like Fruitvale Station and Gringo and appeared on TV shows such as Girls and Elementary. Her character Mel is described as being "a strong-willed feminist, she feels deeply and is a bit controlling." Mel is a lesbian in her mid-twenties who will have a girlfriend on the show, Detective Soo Jin. Oh — she can apparently freeze time.
Sarah Jeffery as Madison Pruitt
Sarah Jeffery — who's been on TV shows such as Wayward Pines, Shades of Blue, and Descendants: Wicked World — will play the youngest Pruitt, Madison. Madison is a athletic college student who differs from her sister Mel, and struggles with the idea of being a witch.
One alum of the OG cult classic speaking up about its fresh update? Holly Marie Combs, who starred as Piper Halliwell for eight seasons. The actress took to Twitter to express her feelings about the reimagined Charmed in January.
Shannen Doherty, who played Prue, had her own thoughts.
When news broke of a reboot back in 2013 original cast members Rose McGowan (Paige Matthews) and Alyssa Milano (Pheobe Halliwell) both tweeted their disapproval.
Alyssa seemed as though she came around to the possibility in 2017, telling The Daily Beast: "The other thing that I know is that Shannen, Holly, Rose and I have all said out loud that we are open to some sort of reboot, reunion or something." She has not weighed in recently now that the project is in motion for The CW and actors have been cast.
The promising news for Charmed 2.0 is that Jane the Virgin producers, directors, and writers are at the helm. It will be interesting to see if a fresh take on this beloved hit will resonate with former fans and bewitch new viewers.